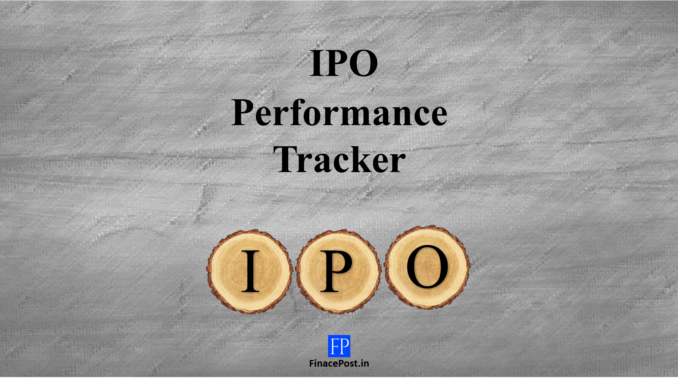 IPO Performance Tracker
In the IPO performance tracker,  we have compared the current market price to the issue price for investors to track their IPO investments. Many fundamentally strong IPOs have made significantly strong listing gains. IPOs like Ami Organics, Tatva Chintan, Clean Science, GR Infra are the top performers giving fantastic returns over their issue price. Many issuers which did not list with premium are also trading at strong levels like Easy Trip Planners.
The current market price is also compared with the offer price to calculate gains linked to market price and thus providing investors a more realistic picture of their investments.
Investors should invest in an IPO after analysing the company and its financial performance for a couple of years. They may also track the GMP (grey market premium ) prevailing in the market but however, GMP does not assure strong listings.
| | | | | | | |
| --- | --- | --- | --- | --- | --- | --- |
| Issuer Name | Offer price (Upper Band) | Listing Day Closing Price | Listing Gain | Current Market price as on 30th Sep 2021 | Gains linked to market price | Classification |
| Paras Defence and Space Technologies | 175 | | | | | |
| Sansera Engineering | 744 | 811 | 9.01% | 801.90 | 7.78% | At par |
| Ami Organics | 610 | 910 | 49.18% | 1281.15 | 110.02% | Top-performing |
| Vijaya Diagnostics Limited | 531 | 542 | 2.07% | 565.40 | 6.48% | Average |
| Aptus Value Housing | 353 | 333 | -5.67% | 332.60 | -5.78% | Laggard |
| Chemplast Sanmar | 541 | 550 | 1.66% | 609.85 | 12.73% | Average |
| Nuvoco Vista | 570 | 471 | -17.37% | 545.05 | -4.38% | Laggard |
| CarTrade Tech | 1618 | 1600 | -1.11% | 1234.15 | -23.72% | Laggard |
| Devyani International | 90 | 141 | 56.67% | 116.40 | 29.33% | Average |
| Glenmark Life Sciences | 720 | 751.1 | 4.32% | 675.25 | -6.22% | Laggard |
| Exxaro Tiles | 120 | 126 | 5.00% | 154.85 | 29.04% | Average |
| Krsnaa Diagnostics | 954 | 1025 | 7.44% | 773.55 | -18.92% | Laggard |
| Rolex Rings | 900 | 1250 | 38.89% | 1022.30 | 13.59% | Average |
| Windlas Biotech | 460 | 439 | -4.78% | 361.00 | -21.52% | Laggard |
| Tatva Chintan Pharma Ltd | 1083 | 2111.8 | 95.00% | 2242.35 | 107.05% | Top Performing |
| Zomato Limited | 76 | 116 | 52.63% | 138.50 | 82.24% | Top Performing |
| Clean Science and Technology | 900 | 1770.65 | 96.74% | 2005.70 | 122.86% | Top Performing |
| GR Infraprojects Limited | 837 | 1838 | 119.59% | 1896.10 | 126.54% | Top Performing |
| India Pesticides | 296 | 350 | 18.24% | 309.80 | 4.66% | At Par |
| Krishna Institute Of Medical Sciences | 825 | 987.5 | 19.70% | 1215.00 | 47.27% | Average |
| Dodla Dairy | 428 | 609 | 42.29% | 599.30 | 40.02% | Average |
| Sona BLW Precision | 291 | 347.5 | 19.42% | 563.50 | 93.64% | Top Performing |
| Shyam Metallics | 306 | 378.15 | 23.58% | 364.80 | 19.22% | Average |
| Indigo Paints | 1490 | 3118.65 | 109.31% | 2552.55 | 71.31% | Top Performing |
| MTAR Technologies | 575 | 1082.25 | 88.22% | 1399.50 | 143.39% | Top Performing |
| Nureca | 400 | 666.65 | 66.66% | 1627.25 | 306.81% | Top Performing |
| Nazara Technologies | 1101 | 1576.80 | 43.22% | 2290.65 | 108.05% | Top Performing |
| Heranba Industries | 627 | 812.25 | 29.55% | 806.90 | 28.69% | Average |
| RailTel | 94 | 121.40 | 29.15% | 128.70 | 36.91% | Average |
| Laxmi Organics | 130 | 164.60 | 26.62% | 520.65 | 300.50% | Top Performing |
| Barbeque Nation | 500 | 590.40 | 18.08% | 1123.45 | 124.69% | Top Performing |
| Stove Kraft | 385 | 445.95 | 15.83% | 1048.15 | 172.25% | Top Performing |
| Easy Trip Planners | 187 | 208.30 | 11.39% | 607.55 | 224.89% | Top Performing |
| Home First Finance | 518 | 527.40 | 1.81% | 593.50 | 14.58% | Average |
| Brookefield REIT | 275 | 269.96 | -1.83% | 267.96 | -2.56% | Laggard |
| Craftsman Automation | 1490 | 1433.00 | -3.83% | 2121.30 | 42.37% | Average |
| IRFC | 26 | 24.90 | -4.23% | 22.65 | -12.88% | Laggard |
| Anupam Rasayan | 555 | 525.90 | -5.24% | 810.25 | 45.99% | Average |
| Suryoday SFB | 305 | 276.20 | -9.44% | 178.20 | -41.57% | Laggard |
| Kalyan Jewellers | 87 | 75.30 | -13.45% | 69.95 | -19.60% | Laggard |
Summary
Hold or Exit an IPO Post Listing