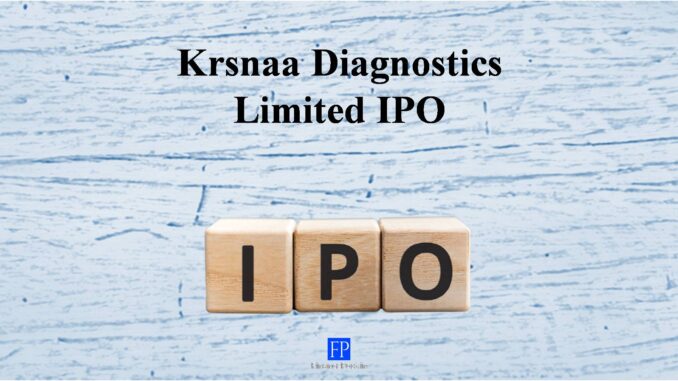 Krsnaa Diagnostics Limited IPO- Fundamental Analysis
Incorporated in Pune, Krsnaa Diagnostics Limited is the largest differentiated diagnostic service provider in India. Krsnaa Diagnostics IPO is slated to launch on 4th Aug 2021.
Offer details of Krsnaa Diagnostics Limited IPO
[su_table]
Offer Details
Offer Size
Rs 1213 crore
of which
Fresh Issue
Rs 400 crore
Offer for sale
upto 85,25,520  equity shares amounting to Rs 813 crore
Employees
Upto Rs 20 crore
Price Band
Rs 933-Rs 954 per share
Offer Period
4th Aug-6th Aug, 2021
Offer Structure
QIBs: upto 75% of the offer
NIIs: upto 15% of the offer
RIIs : upto 10% of the offer
Market Lot
Minimum 1 lot; 15 shares (Rs 14,310)
Maximum 13 lots; 195 shares (Rs 1,86,030)
Listing on
BSE, NSE
BRLM's
Dam Capital, Equirus Capital, IIFL Securities, JM Financial
Registrar
Kfintech
[/su_table]
Business Review of Krsnaa Diagnostics Limited
The Issuer provides a range of technology-enabled diagnostic services such as imaging (including radiology), pathology/clinical laboratory, and teleradiology services to public and private hospitals, medical colleges, and community health centers pan-India. As of June 30, 2021, Krsnaa operated1,823 diagnostic centers offering radiology and pathology services in 13 states across India. The business model involves diagnostic centers operated under a hospital partnership model.
The Issuer operates as one of India's largest tele-radiology reporting hubs in Pune that is able to process large volumes of X-rays, CT scans, and MRI scans round the clock and 365 days a year and serves patients in remote locations where diagnostic facilities are limited.
Business segments
The Issuer focuses on the public-private partnership ("PPP") diagnostics segment and has the largest presence in the diagnostic PPP segment.PPP agreements are typically long-term in nature and ensure the predictability of revenues from operations. Krsnaa has become a preferred partner for public health agencies, 77.59% of all tenders (by number) bid for having been granted to Krsnaa. As of June 30, 2021, the Issuer has deployed 1,797 diagnostic centers pursuant to PPP agreements with public health agencies.
In addition to the PPP segment, the company collaborates with private healthcare providers to operate diagnostic centers within their facilities. It operated 26 such diagnostic centers as of June 30, 2021. Krsnaa also has an extensive network of integrated diagnostic centers across India primarily in non-metro and lower-tier cities and towns.
PPP agreements and private hospital partnerships typically provide rent-free space and access to its utilities and other infrastructure for installation and operations of the diagnostic centres. Certain agreements also include price escalation clauses that allow us to revise the rates for our services periodically during the tenure of the contract.
The diagnostic equipment is procured from leading OEMs including Wipro GE Healthcare Private Limited, Siemens Healthcare Private Limited, Fujifilm India Private Limited, HORIBA India PrivateLimited, and Agappe Diagnostics Limited.
Financial Review
There was a substantial increase in the total revenues in FY21 due to a significant increase in testing volumes for Covid-19. There was also one time gain on fair value movement of compulsory convertible preference shares. Total income increased to Rs 661.48 crore in FY21 from Rs 271.38 crore in FY20.
The Issuer posted adjusted EBITDA margin of 26% and a net margin of 8% for FY21.
Valuation Parameters
[su_table]
| | | | | |
| --- | --- | --- | --- | --- |
| Valuation Paramaters | EPS | P/E | NAV | P/BV |
| | 12.25 | 77.88 | 85.27 | 11.19 |
[/su_table]
It should be noted that the Issuer has a negative average P/E if average EPS (-12.41) for the last three fiscals is considered.
Investment Strategy
Given the track record of operating in the PPP segment, the Issuer is well-positioned to benefit from the significant growth opportunity in this segment. Krsnaa is focused to further grow business and operations organically by entering into partnership arrangements with public health agencies, private hospitals, medical colleges, and community health centers. There is only one concern over the sustainability of revenues and margins as the impact of covid related revenues fades away over time. But benefit from economies of scale would drive earnings growth, margin improvement, and increasing return on capital invested in the long term. Hence Investors might subscribe to the Issue.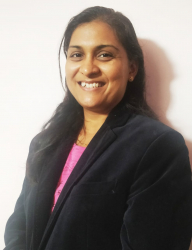 Latest posts by CA Priyanka Choudhary Jain
(see all)
Disclaimer: The above content is for general info purpose only and does not constitute professional advice. The author/ website will not be liable for any inaccurate / incomplete information and any reliance you place on the content is strictly at your risk.
Follow us on Social Media by clicking below
Follow @financepost_in