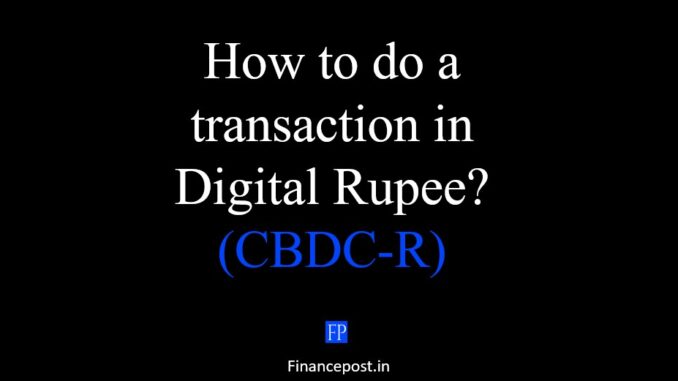 How to transact using the retail CBDC  (CBDC – R) or eRupee R?
The Reserve Bank of India (RBI) has launched the token-based digital currency for retail use on a pilot basis from December 01, 2022, popularly known as CBDC-R or e-Rupee (retail). The pilot is taking place in select cities on closed group circuits. The RBI has selected a few cities like Mumbai, New Delhi, Bangalore, and Bhubaneswar and subsequently, it will be extended to other cities.
CBDC-R or e-Rupee (R) would be potentially available for use by everyone. Like, individuals,  the private sector, non-financial consumers, and businesses, while wholesale CBDC (ie. CBDC-W )is designed for restricted access to select financial institutions.
How will a monetary transaction take place using CBDC-R?
CBDC – R is a fiat currency which is a legal tender; so it will work similar to a physical cash transaction however in a digital mode i.e. with the use of Wallet.
Hence, it is important to have digital connectivity and a mobile device to carry out transactions through CBDC-R.
Currently, the CBDC-R transactions are under testing/pilot mode.  However, based on the available guidance we can determine how a transaction will take place in the wallet using CBDC -R.
Step-by-step guide for carrying out any CBDC R transaction

 
Step 1: Download the dedication app for CBDC launched by RBI or your bank like SBI, ICICI, etc. SBI has launched the e-Rupee app for CBDC-R transactions.  (Note that these apps are under the pilot phase and will be live once a go-ahead is received from the Central Bank.)
Step 2: After agreeing to terms and conditions, etc a Wallet registration process will start. Please note that registration of the e-Rupee Wallet is associated with your mobile number or SIM. Hence, you should select the appropriate SIM option. It would be a good idea to select the same mobile number that is registered with the bank whose account you want to link to the wallet. Set up a PIN / Lock Pattern / biometric security as per your mobile and APP compatibility. In case you worry about forgetting the PIN, then you can create a "recoverable Wallet" by creating a recovery code. You will get a unique Wallet Address for your wallet profile. KYC requirements visible in the SBI app suggest that Aadhar KYC is the minimum KYC requirement. You can also link your existing bank account to this Wallet. This will fetch the KYC details from the linked bank account.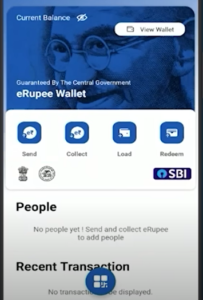 Step 3: Load/Redeem/Collect and Send money using Wallet. A Digital wallet is equivalent to a "purse" with physical cash. The only difference is that the money / Rupee will be in digital form. We can use the options given to load money into the wallet from your linked bank account. In case you have not linked any bank account, you can use the payment gateways to load the wallet with currency. Please note that the currency that will get loaded in the wallet will appear like "digital notes" or "digital coins" as mentioned below. For eg. If you load Rs 21/- in the wallet, you need to select Rs 20 note and Rs 1 note/coin. Once you select the amount to be loaded, your wallet will get the amount loaded and the corresponding bank account/wallet chosen by you for the transfer will be debited. However, this transaction is instant and without much delay.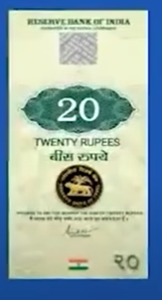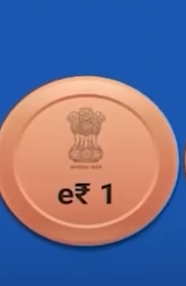 The currency loaded in your wallet will have a unique serial number derived using blockchain technology. Using this loaded currency you can digitally transfer the money to another person's digital wallet using his wallet address. (wallet-to-wallet transfer) Please note that this transfer will be governed by RBI and will not have any intervention of the bank or entry into the bank account.
Similarly, you can receive money in the wallet or redeem the wallet into the linked bank account.
How is this wallet different from UPI apps?
The basic difference between the CBDC R wallets and UPIs is that there is no intermediation of bank in CBDC R wallets. As clarified by the governor of RBI, when we use a UPI app, the message goes to our bank, and the bank account gets debited, money gets transferred to the recipients, to the receiver's bank, his account gets credited and he gets a message in his mobile phone. So, there is an intermediation of the bank in that process. In CBDC, just as paper currency, you will draw the digital currency and keep it in your wallet which will basically be your mobile phone and when you go and make a payment in a shop or to another individual, it will move from your wallet to his wallet. There is no routing or there is no intermediation of the bank.
In other words, the e-Rupee is money and UPI is their payment method. You can use UPI to load your e-Rupee wallet. But while making payments or receiving money in the e-Rupee wallet you don't need UPI as long as the other party has a wallet address too.
The product has many unanswered questions
⊗ Whether e-Rupee balance will be interest-bearing in the future?
⊗ Do you have to transact in multiple of 50paise only; as the money is represented in coins and notes?
⊗ Will this replace dependency over banks?
⊗ Will it replace the cash economy?
⊗ How will my digital wallet balance get certified?
⊗ What are the security measures undertaken?
These questions can be looked into as challenges and can be addressed by banks or Fintech or RBI by creating various products on this system. It will evolve this system to the next level. No doubt the financial landscape in India is up for a change…
To summarize, RBI has created a baseline platform to transform your cashbox into a "digital" form on your mobile. It is in a raw state currently but certainly has the potential to take banking to next level…. for the better!!!
(Read our earlier post Features of Digital Rupee to understand the features of  CBDC in detail.)
---
---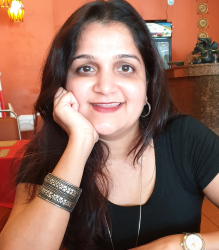 Latest posts by CA Janhavi Phadnis
(see all)
Disclaimer: The above content is for general info purpose only and does not constitute professional advice. The author/ website will not be liable for any inaccurate / incomplete information and any reliance you place on the content is strictly at your risk.
Follow us on Social Media by clicking below
Follow @financepost_in