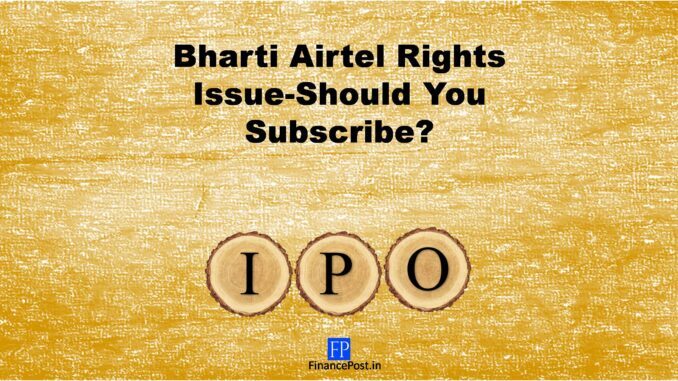 Last updated on July 19th, 2022 at 08:52 am
Bharti Airtel Rights Issue opened on 5th Oct 2021. The Rights Issue is priced at Rs 535 per share; 25% of the rights price is payable at the time of application and the rest 75% would be payable in the subsequent one or two calls.
Bharti Airtel Right Issue details are as below:
[su_table]
Offer Details
Rights Offer
Upto 39.23 crore equity shares amounting to Rs 20987.39 crore
Price Band
Rs 535 per rights equity share
Application money- Rs 133.75 per share
Call money- Rs 401.25 per share
Rights ratio
1:14
Rights Issue opens on
Oct 5, 2021
Last date for market renunciation
Oct 14, 2021
Issue closes on
Oct 21, 2021
Listing on
BSE and NSE
BRLM's
Axis Capital, JP Morgan, Citigroup, Kotak, BNP Paribas, BoFA Securities, Goldman Sachs, HDFC Bank, ICICI Securities, JM Financials,
Registrar
Kfintech
[/su_table]
Objects of the Rights Issue
Repayment of certain borrowings including deferred payment term liabilities to DoT (Rs 15925.41 crore)
General corporate purposes- Rs 5025.52 crore
The record date of the Issue was September 28, 2021 and temporary Demat shares (as per the rights ratio)were allotted to the shareholders of Bharti Airtel. The shareholders can buy or sell the REs between October 5 and October 14 on a trade-to-trade basis on a special trading window. The rights entitlement can be sold on the special window if the shareholders don't want to subscribe. The Rights not subscribed or renounced would lapse by 21st October 2021.
Should You Buy?
The financials of the company show a volatile trend over the last two years. The company reported net losses of Rs (23420) crore in FY21 and Rs (33618) crore for FY20. However for Q1FY22, the company has recorded net profits of Rs 941.40 crore. The Debt to equity ratio of 1.65x as on 31st March 2021 is at a higher side. This may come down slightly as the company plans to repay certain borrowings from the right issue proceeds. Looking at the business prospects of Airtel, it has an advantage from weakening of VIL and the sector benefits from Digital India initiatives . The Rights Entitlement were quoting a premium of Rs 156.40 per share (premium is difference between CMP and Rights price) as of 6th Oct. The scrip traded at Rs 691.40 as on 6th oct. Shareholders may  consider buying with a long term perspective.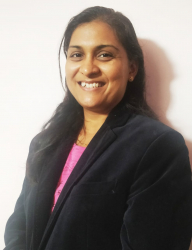 Latest posts by CA Priyanka Choudhary Jain
(see all)
Disclaimer: The above content is for general info purpose only and does not constitute professional advice. The author/ website will not be liable for any inaccurate / incomplete information and any reliance you place on the content is strictly at your risk.
Follow us on Social Media by clicking below
Follow @financepost_in