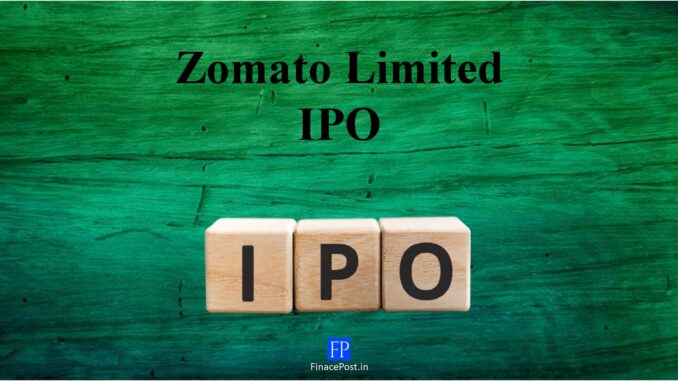 Zomato Limited IPO
Zomato Limited's IPO wait is finally over! The much-awaited IPO is slated to launch on 14th July. Incorporated in the year 2010, Zomato, the Issuer is an online leading Food Services platform in India in terms of the value of food sold, as of March 31, 2021. During FY21, 3.2 crore average MAU (Monthly Active Users) visited the online platform in India.
Offer Details of Zomato Limited IPO
[su_table]
Offer Details
Offer Size
Rs 9375 crore
of which
Fresh Issue
Rs 9000 crore
Offer for sale
Rs 375 crore
Employee reservation
65,00,000 equity shares
Price Band
Rs 72-Rs 76 per share
Offer Period
July 14- July 16 , 2021
Offer Structure
QIBs: upto 75% of the offer
NIIs: upto 15% of the offer
RIIs: upto 10% of the offer
Market Lot
Minimum 1 lot; 195 shares (Rs 14,820)
Maximum 13 lots; 2535 shares (Rs 1,92,660)
Listing on
BSE, NSE
BRLM's
BofA  Securities India Limited, Citigroup Global Markets
Registrar
LinkIntime
Objects of the Zomato Limited IPO[/su_table]
Funding organic and inorganic growth initiatives Rs 6750 crore
General corporate purposes
Service Offerings of Zomato
Food Delivery (B2C)
Dining Out (B2C)
Hyperpure (B2B)- supplies high-quality ingredients to restaurant partners.
Zomato Pro- Customer loyalty program which encompasses both food delivery and dining-out.
Zomato provides an end-to-end Food Services approach making it the most unique Food Services platform globally combining the offerings of platforms such as Yelp, DoorDash, and OpenTable in a single mobile app, according to RedSeer.
Business Model and Reach of Zomato
As of March 31, 2021, Zomato has a widespread presence in 525 cities in India, with 389,932 Active Restaurant Listings. Its mobile application is the most downloaded food and drinks application in India in each of the last three fiscal years since FY19-FY21 on the iOS App Store and Google Play combined, as per App Annie's estimates.
Restaurant listings include information such as photos of the menu, photos of the restaurant premises, address and GPS coordinates, phone number, website, social media presence (Facebook and Twitter links), cuisine, opening timings, the average cost for a meal, free parking availability, indoor or outdoor seating availability, free Wi-Fi availability, whether the restaurant offers live entertainment, has a smoking room, whether table booking is recommended, among others. This information about restaurants is termed as "Structured Content".
They also have CGC which consists of reviews, ratings, and photos posted by customers on Zomato's platform. In Fiscal 2021, 1.27 crore customers generated 6.18 crore units of CGC on its platform.
Customers use Zomato platform to search and discover restaurants, read and write customer-generated reviews and view and upload photos, order food delivery, book a table, and make payments while dining out at restaurants. They also provide restaurant partners with industry-specific marketing tools which enable them to engage and acquire customers to grow their business while also providing a reliable and efficient last-mile delivery service.
Zomato is one of India's largest hyperlocal delivery networks, based on the number of delivery partners as of March 31, 2021, (as per RedSeer) with 169,802 Active Delivery Partners in the month of March 2021. Given the presence and interaction of the three stakeholders in a limited geographical area, the delivery network is referred to as 'hyperlocal'. In Fiscal 2021, delivery partners fulfilled 94.1% of the Orders delivered. The median delivery time of the Orders fulfilled by Zomato was approximately 30 minutes in Fiscal 2021.
Other information about the Issuer
Zomato operates entirely out of leased premises or co-working spaces. They do not own the underlying property for any of the offices in India, including registered and corporate office.
As of March 31, 2021, the Issuer had 3,755 employees worldwide. They also engage contractors and consultants to provide a temporary workforce; Zomato had a temporary workforce of 866 people who are not on the payroll.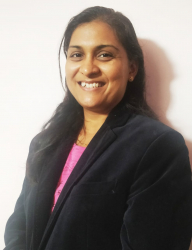 Latest posts by CA Priyanka Choudhary Jain
(see all)
Disclaimer: The above content is for general info purpose only and does not constitute professional advice. The author/ website will not be liable for any inaccurate / incomplete information and any reliance you place on the content is strictly at your risk.
Follow us on Social Media by clicking below
Follow @financepost_in