Last updated on August 2nd, 2021 at 12:31 pm
Devyani International Limited IPO- All you need to know
The largest franchisee of Yum Brands in India and operators of chain quick-service restaurants ("QSR"), Devyani International (the Issuer) is set to launch its IPO on 4th August.
Offer details of Devyani International Limited
Offer Details
Offer Size
Rs 1829 crore
of which
Fresh Issue
Rs 440 crore
Offer for sale
upto 15,53,33,330 equity shares
Employee Reservation(eligible employees)
upto 5,50,000 equity shares amounting to Rs 1389 crore
Price Band
Rs 86-Rs 90 per share
Offer Period
Aug 4-Aug 6, 2021
Offer Structure
QIBs: upto 75% of the offer
NIIs: upto 15% of the offer
RIIs: upto 10% of the offer
Market Lot
Minimum 1 lot; 165 shares; Rs 14850
Maximum 13 lots;2145 shares; Rs 193050
Listing on
BSE, NSE
BRLM's
Kotak Mahindra Capital Company, CLSA India Pvt Ltd, Edelweiss FS Ltd, Motilal Oswal Investment Advisors Ltd
Registrar
LinkIntime
Objects of Devyani International Limited IPO
Repayment of certain borrowings (Rs 324 crore)
General corporate purposes
Business review of Devyani International Limited
Devyani International as a franchisee of Yum! Brands Inc. operates brands such as KFC, Pizza Hut, and Taco Bell brands. The Issuer has presence globally with more than 50,000 restaurants in over 150 countries, as of December 31, 20201. The company also acts as a franchisee for the Costa Coffee brand and stores in India.
The business is broadly classified into three verticals which are the core brands operating in India.
KFC,
Pizza Hut and
Costa Coffee
Stores of certain other brands include Vaango, Food Street, Masala Twist, Ile Bar, Amreli, and Ckrussh Juice Bar.
International Business- stores operated outside India primarily comprising KFC and Pizza Hut in Nepal and Nigeria. The company is the non-exclusive sole franchisee for KFC and Pizza Hut in Nepal, and for KFC in Nigeria.
Revenue from Core Brands Business, together with International Business contributed 83.01%, 82.94%, and 94.19% of the revenue from operations in FY19, FY20, and FY21 respectively. Stores in the Core Brands Business grew at a CAGR of 13.58%.
The company operated 284 KFC stores and 317 Pizza Hut stores and operated 44 Costa Coffee stores in India as of June 30, 2021. In Core Brands Business, the company had an extensive presence in 26 states and three union territories in India as of June 30, 2021. The company is listed on Zomato and Swiggy platforms.
The company is required to spend 6.00% of the gross revenues per store (excluding applicable taxes), as agreed between the Issuer and Yum, for advertising, promotion, and marketing activities. Devyani  Int. collaborate with Yum across various aspects of the operations for KFC and Pizza Hut for the franchisor's brand protection and management, including product innovation and development, brand strategy, and technology initiatives. The company works closely with Yum on advertising, promotion, and marketing activities. For Costa Coffee, the Issuer retains flexibility over operations with respect to similar parameters and is supported by Costa in determining menu, ingredients, suppliers, and distributors.
Promoters
Promoters are Ravi Kant Jaipuria, Varun Jaipuria, and RJ Corp.
Offer for sale includes
upto 65,333,330 equity shares by Dunearn Investments (Mauritius) PTE Ltd.
upto 9,00,00,000 equity shares by RJ Corp.
Windlas Biotech IPO-Fundamental Analysis
Hold or Exit an IPO Post Listing 
Financial Review
The total revenue for FY21 reduced by 21% to Rs 1198.9 crore from Rs 1535.04 crore in FY20. The revenues were Rs 1323.68 crore in FY19. Among the core brands, KFC contributed 18.34%, Pizza Hut contributed 12.94% and Costa Coffee contributed 15.52% for FY21. This decrease was due to the temporary closure of stores due to lockdown restrictions in the pandemic. Loss for FY21 was (62.99) crore, (121.42) crore for FY20, and (94.14) crore in FY19.
Debt to equity is high at 6.45x as on31st March 21. Return on net worth is (48.52%) as on 31st March 2021.
Peer Comparison
| | | | | |
| --- | --- | --- | --- | --- |
| Listed Peer Comparision | | | | |
| Particulars | Jubilant | Westlife | Burger King | Devyani |
| Face Value per share | 10 | 2 | 10 | 1 |
| Total Income for FY21 (INR Crores) | 3384.95 | 1030.3 | 522.9 | 1198.9 |
| EPS | 17.55 | -6.38 | -5.47 | -0.5 |
| NAV per share | 108.12 | 30.89 | 17.59 | 1.03 |
| Return on net worth | 16.16% | -20.66% | -25.82% | -48.52% |
| P/E | 179.21 | NA | NA | NA |
| CMP | 3758 | 568.45 | 185 | – |
Brief Sector outlook
The QSR channel has been rapidly growing in popularity in India, owing to factors such as a rise in literacy, exposure to media, increase in disposable incomes, easier and greater availability, and proliferation of the internet. The sales value of the QSR channel is forecast to grow at a CAGR of 12.4% between 2020 – 2025.
Home delivery in the Indian QSR industry is expected to continue to grow due to changing lifestyles and changing consumer eating patterns in the post-COVID atmosphere.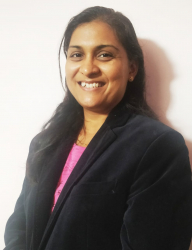 Latest posts by CA Priyanka Choudhary Jain
(see all)
Disclaimer: The above content is for general info purpose only and does not constitute professional advice. The author/ website will not be liable for any inaccurate / incomplete information and any reliance you place on the content is strictly at your risk.
Follow us on Social Media by clicking below
Follow @financepost_in