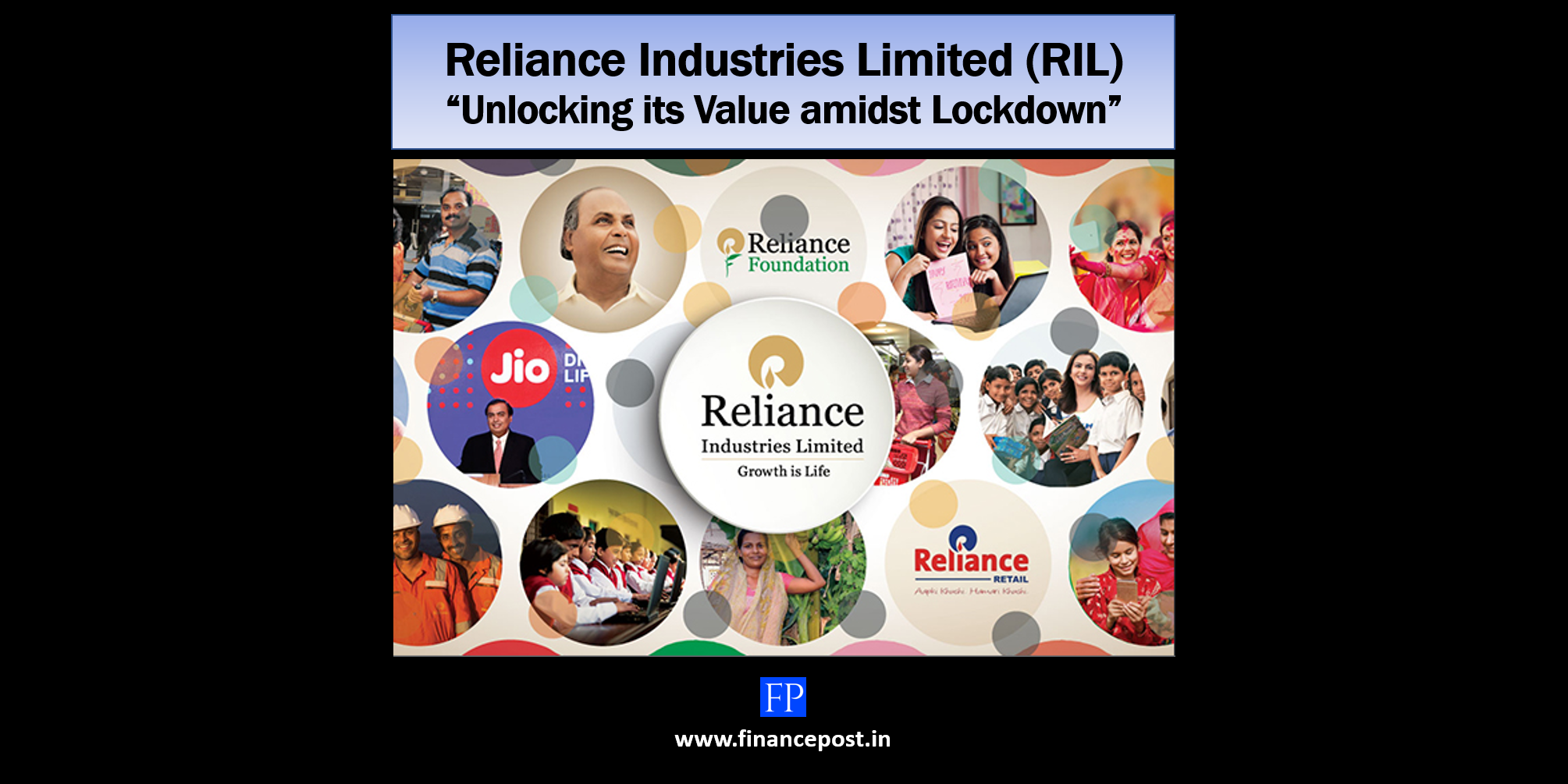 Last updated on July 19th, 2022 at 08:57 am
Reliance Industries Limited (RIL) – "Unlocking its Value amidst Lockdown"
Reliance Industries – the largest manufacturer of polyester in India; amongst the top ten producers of petrochemicals in the world has now rapidly expanded its business horizons.  RIL is racing forward to diversify its Telecom business (digital services through JIO Platforms), Retail arm, and Media and Entertainment (Network 18).
Business strategy of RIL
RIL is pursuing its business strategy to grow, invest in opportunities significant to its business, and drive value through innovation and aims transformation in society. RIL as part of its operational strategy always focuses on activities and investments that have a large domestic market to take advantage of India's population of more than 1.30 billion and struggles to attain the leadership position on a global scale through its marketing strategies. RIL follows innovative pricing to penetrate the market by giving pricing offers and promotions in their products. RIL concentrates on modern technologies for consumers' delight and maintains their market status.
RIL has recently remained in the limelight with its rights issue and selling around 25% of its stake in JIO platforms to Marquee investors. These developments have led to a rally in stock prices of RIL and a higher market cap of more than Rs 1.2 lakh crore.
Let's discuss these market developments:
Rights issue
RIL's right issue of Rs 53,124 crore is not only India's largest rights issue but also the world's largest rights issue by a non-financial institution in the last ten years.
On May 13, 2020 RIL had come up with the right issue of Rs 53,124 crore at a price of Rs 1257 per share. RIL has already raised 25 % of the amount i.e. Rs 314.25 per share at the time of application. Another 25 % is payable on May 20-21 and the balance 50% is payable in Nov 20-21 by investors on subsequent calls to be made by RIL from time to time. The net proceeds of Rs 39755 crore would be utilized to repay or prepay all or a part of borrowings of RIL and the rest (Rs 13281 crore) is set aside for general corporate purposes.
Listing
The rights issue got a huge response from the investors and was oversubscribed at 1.6 times even amidst the COVID -19 economic slowdown. The right issue got listed on June 15 on NSE at Rs 690 contributing to RIL's deleveraged balance sheet.
Entry of INTERNATIONAL INVESTORS in JIO Platforms
Reliance JIO has been striving to bridge the gap in digital India and it has been delivering its promise by reaching to masses. The entry of JIO has revolutionized the telecom sector with people suddenly having access to unlimited calls, 4G data, messaging, and other services. JIO has built a strong customer base by offering their services for free for 3-6 months to all their users; this has converted most of the users into loyal customers of JIO. Also, JIO provides a variety of services under one name like movies, gaming, messenger, shopping, etc. and recently it has launched JIO Fibre (high-speed broadband connection). JIO uses the latest 4G LTE technology supported by Voice over LTE making it supportive of 5G and 6G technologies which holds the future of wireless communication.
Opportunity for JIO lies in focusing on data and speed as data is now a necessity as Government push or Digital India. Also, JIO may bring its own economical smartphones to boost its brand. LYF smartphones were launched in the year 2015 but they have not been much of success.
JIO has seen an investment spree in the last three months raising Rs 1,17,588.45 crore from international investors resulting in 25.1% stake sale in JIO Platforms.
[su_table]
| | | |
| --- | --- | --- |
| Investors | Stake (in %) | Rs (in Crores) |
| Facebook | 9.99% | 43,574 |
| Silver Lake | 1.15% | 10,203 |
| Vista Equity | 2.32% | 11,367 |
| General Atlantic | 1.34% | 6,598 |
| KKR | 2.32% | 11,367 |
| Mubadala | 1.85% | 9,094 |
| Silver Lake | 0.93% | 4,547 |
| ADIA | 1.16% | 1,895 |
| TPG | 0.93% | 11,367 |
| L Catterton | 0.30% | 1,895 |
| PIF | 2.32% | 11,367 |
| Intel Capital | 0.39% | 1,894 |
[/su_table]
The stake sale in JIO platforms has been used to trim debt of RIL and RIL has become net debt-free much ahead of its scheduled year FY20-21. Apart from deleveraging its balance sheet, RIL might use a surplus of these funds to explore new business opportunities, diversify existing businesses, or might bid for the 5G spectrum as the Indian Telcos gear up for the new technology!
Intel Capital, now an investor in Jio, invests globally in innovative companies with a focus on disruptive technology areas like cloud computing, artificial intelligence, and 5G – opportunities where JIO is also innovating and investing for growth. On a lighter note, the logo of JIO if read reverse comes as OIL which aided RIL business in the 20th century. JIO may probably be the revolutionary trigger in the 21st century for RIL!!
Developments in Retail segment
The most recent news coming up is RIL being in the advanced negotiation stage to buy a stake in the retail business of Future Group. As per the information available, RIL is considering acquiring the retail business comprising of FBB, Big Bazar, Food Hall, and Central, Future Lifestyle Ltd, and Future Supply Chain Solutions.
If the deal materializes, RIL might be the top retail player in categories of fashion, grocery, and general merchandise. It can further be substantiated by the fact that Future retail has around 1500 retail stores with brands of Big Bazar, Ezone, Food hall, FBB, Nilgiris, and Easyday. Also Future Lifestyle has 300 stores under brands of Central and Brand Factory.
Launch of JIO Mart
JIO Mart is an online grocery virtual store, incepted to capture the highly sought-after e-commerce segment projected to grow up to $1.2 trillion by yr. 2021. JIO Mart would operate in O2O (online to offline) business model wherein it will get connected to the local retailers and deliver the goods to consumers from the nearest retail shop in their vicinity. It eliminates the need of maintaining the warehouses as against the business model of other e-commerce giants like Amazon, Big Basket, and others. Hence it aims to transform the unorganized retailers into digitally organized players; therefore this new venture is termed as "Desh Ki Nayi Dukan".
With the pilot project launched in the suburbs of Maharashtra, now it is expanding in the other 200 cities as well. It is worth noting here that collaboration of JIO-Facebook would enable the JIO mart users to place their orders using WhatsApp and Facebook while the payments can be made through the "WhatsApp Pay" feature(currently in pilot), and soon it would be made available to Indian users.
Similar to how JIO has bought a significant impact on the Telecom sector, JIO Mart has the capacity to turn the tables to its favor in the retail grocery!
Future Prospects
RIL is following its punch line of "Growth Is Life" and even in the COVID -19 pandemic when the world is in an economic slowdown, it has left no stone unturned to find the potential investors for its Telco, JIO Platforms. It has already finalized more than 10 deals in the last three months and the next one is underway! RIL's stock has rallied from a low of Rs 875 in March 2020 to its 52 weeks high of Rs 1870 (Pls see the chart below for its closing share prices monthly). Despite the uncertain times, RIL's stock has jumped by more than 85% giving fantastic returns in the pandemic to its investors.
RIL has always believed in driving shareholder value by continuously improving its business portfolio, building a sustainable business to transform society, and drives value by delivering operational efficiency and productivity. The future of RIL looks promising with a deleveraged balance sheet, marquee investors in JIO platforms, JIO Mart, and probable expansion in retail, and all being consumer-focused business might play a significant role in its growth story and fill the pockets of investors as well.
Related Posts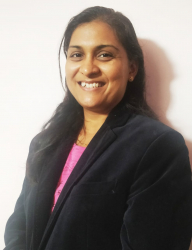 Latest posts by CA Priyanka Choudhary Jain
(see all)
Disclaimer: The above content is for general info purpose only and does not constitute professional advice. The author/ website will not be liable for any inaccurate / incomplete information and any reliance you place on the content is strictly at your risk.
Follow us on Social Media by clicking below
Follow @financepost_in