Last updated on July 19th, 2022 at 08:57 am
Vodafone Idea Ltd (VIL) – is it a Safe Bet? A brief analysis
Key Analytical Findings
Deteriorating financial condition over the last two financial years. Net losses have increased to whopping Rs (14800.70) crores in FY 19.
Sector vulnerabilities exist in the form of pending AGR dues. This is a significant financial threat as VIL owes a huge amount of Rs 53000 crore. The lower likelihood of any relief from the Government of India after the Supreme Court (SC) on February 14, 2020, did not grant any relief under the modification request filed by the telecom companies (telcos), including VIL.
Unable to generate a return on shareholders' funds.
Strong competition from Jio, Jio rules the sector with a market share of 32%. The entry of Reliance Jio started the price war which in turn eroded the Industry's revenue.
Poor cash flow generated from core business activity, cash flow from operations has shown a declining trend in the last two years.
Exposed to regulatory risk as operates in a highly regulated telecom industry.
Rating downgrade by CRISIL on one of its debt instruments and the outlook continues on "Rating Watch with Negative Implications".
About the company
Vodafone Idea Limited (VIL) is one of the leading mobile service providers in India, with a 29% market share (as on Sept 30, 2019). VIL is an integrated GSM operator offering 2G, 3G and 4G, 4G+, and VoLTE mobile services under two brands named Vodafone and Idea. As of 31 December 2019, VIL has a subscriber base of 332.65 million which makes it the second-largest mobile telecommunications network in India. Vodafone group holds 45%, Aditya Birla Group holds 26% and the rest is held by the public.
Financial Summary
Total revenue increased by 32% to Rs 37823.6 crores for FY 2019 but the bottom line still remains in red for VIL for the last two years. Losses before interest and tax have increased to Rs (8909.4) crore in FY 2019 as compared to the loss of Rs (2008.61) in FY 2018. Net Loss for VIL is Rs (14800.70) in FY 19 due to significant interest cost. Net loss was Rs (6438) crores in the quarter ended Dec 31, 2019.
The financial position of VIL is deteriorating YOY and the pending AGR dues have further stressed the entire telecom sector with VIL, being hit hard. DoT's demand Rs 58,254 crores including interest and penalties from VIL as AGR dues and VIL has paid Rs 6854 crores of its dues.
VIL has also suffered a loss of more than 8 crore subscribers during 12 months through December 2019 trimming its revenues and profitability.
[su_table]
Key Performance Indicators (in crores)

FY 20

(Q3)

FY19
FY 18
FY 17
Total Revenues
11380.5
37823.6
28631.87
35882.67
EBIT
-2799.1
-8909.4
-2008.61
2694.38
Profit After Tax
-6538.7
-14800.7
-4490.51
-821.52
Return on Equity
NA
-24.48%
-15.28%
-1.61%
Return on Assets
NA
-6.35%
-4.22%
-0.41%
[/su_table]
Recent developments
There is recent news circulating of Google buying a 5% stake in VIL which resulted in a rally in its share price. However, VIL has clarified that there is no such proposal being considered by the board. The Supreme Court has adjourned the hearing of AGR case to June 18 and has directed the telcos to file an affidavit within 3-4 days but VIL has highlighted its inability to file an affidavit in a short span and also indicated that VIL won't be able to provide bank guarantees for AGR dues.
Fluctuations in share price
The share price of VIL is showing fluctuations in the last two weeks due to speculative news circulating in the market about its stake. The share price rose to Rs 10.15 recently from Rs 3.86 in March'20, almost 3 times! Fluctuations would continue to be seen in VIL until it reaches its correction level due to the sector vulnerability.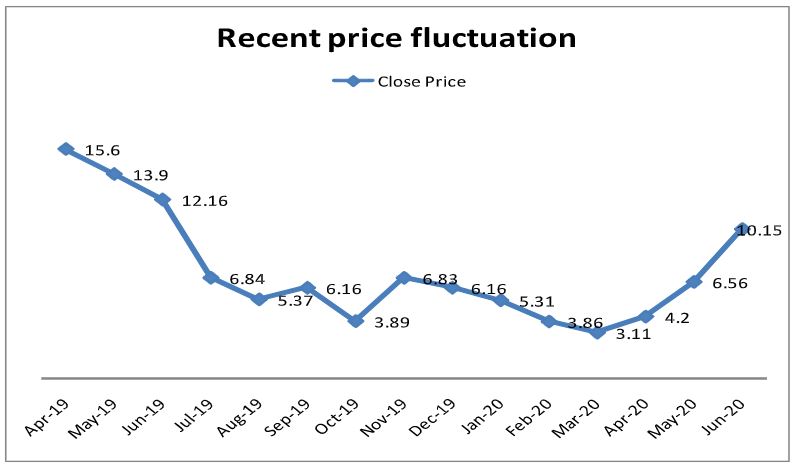 Summary
In a nutshell, VIL is sailing under dark waters signaling weak fundamentals of the company, sensitivity of the sector, and tough competition from the largest telco Jio. Among all the Telcos, VIL has the largest liability in the form of AGR dues and the VIL balance sheet is not that strong to pay exorbitant dues. There is a cloud of uncertainty over VIL's ability to continue as a going concern and to generate adequate cash to pay off its AGR dues and refinance its liabilities, guarantees as they become due. Hence, it is better to refrain from investing in VIL until there is some clarity on its AGR dues unless the investors have a high-risk appetite and a speculative mindset.
Related Posts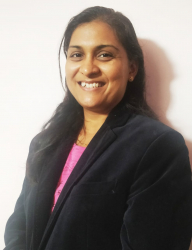 Latest posts by CA Priyanka Choudhary Jain
(see all)
Disclaimer: The above content is for general info purpose only and does not constitute professional advice. The author/ website will not be liable for any inaccurate / incomplete information and any reliance you place on the content is strictly at your risk.
Follow us on Social Media by clicking below
Follow @financepost_in