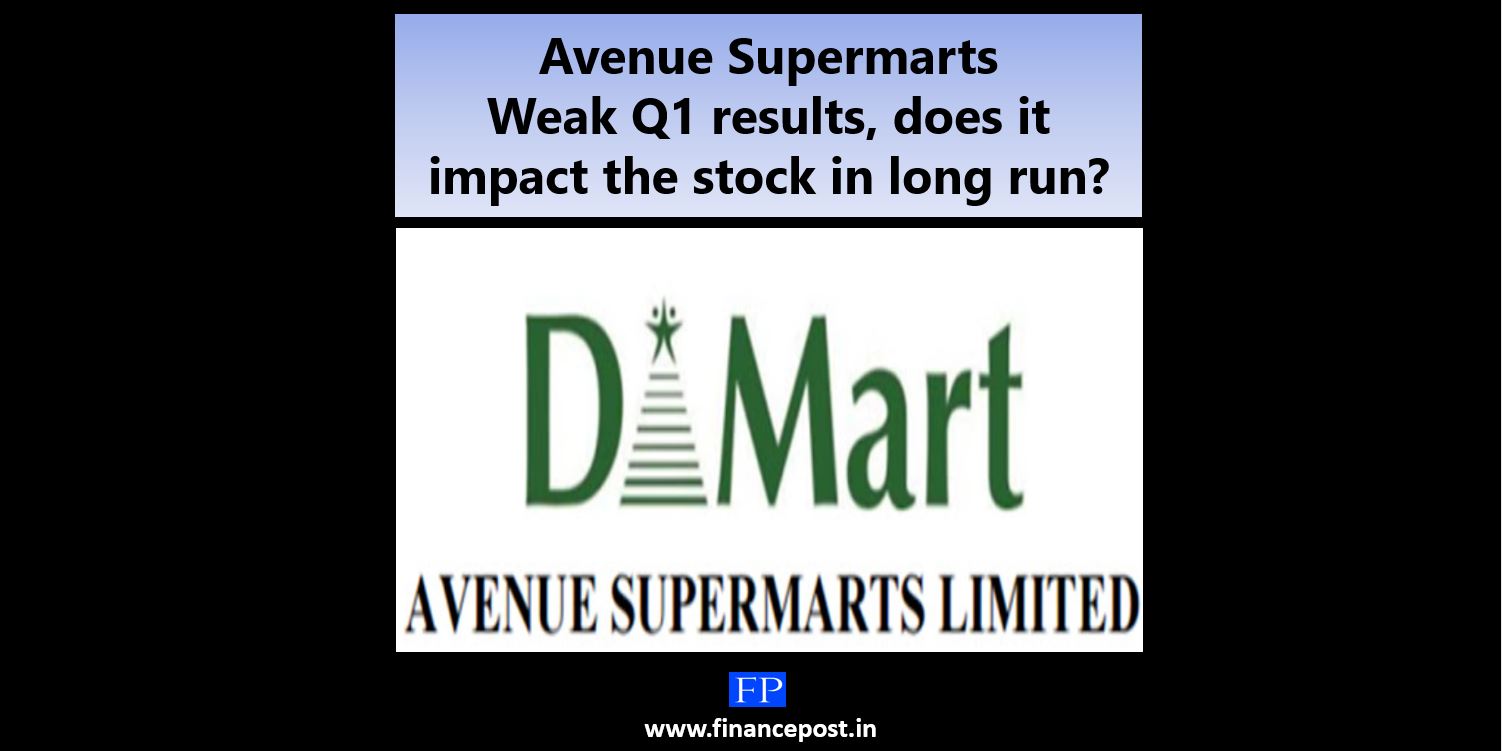 Avenue Supermarts- Weak Q1 results, does it impact the stock in the long run?
Recent development
D- Mart's topline numbers have seen a decline on account of lower sales in Q1 FY 21. Total revenue for Q1 FY 21 has reduced by 37% to Rs 3884.57 crore from Rs 6229.12 crore in Q4 FY 20. If compared to the corresponding quarter of Q1 FY 20, it has fallen by 33% !!
PAT is Rs 49.56 crore in Q1 FY 21 as compared to PAT of Rs 335 crore in Q4 FY 20 and a significant decline of 85% on YoY basis.
Net Profit margin is 1% for Q1 FY 21 against 5.8% seen in Q1 FY 20. This may also be due to the closure of the high margin business (Apparels and general merchandise) of D-Mart.
Why lower profits?
Covid-19 continued to spread across the country. The ensuing restrictions have had a significant impact on the operational and financial performance in the quarter. As summarized, Margins and PAT for the quarter were significantly lower as compared to the same quarter last year. 50% of the stores have remained closed in the lockdown including the temporary closure of the general merchandise business of all stores until the pandemic is controlled.
One can further refer to the COVID impact section in the Avenue Supermarts Analysis published earlier. Avenue Supermarts Ltd.- is it a crown of organized Retail?
What holds in the future?
The financials may see a contraction in FY 21 due to the brunt of the economic slowdown. There may be increase in expenses as well due to higher sanitization cost of stores which remained open during lockdown and hardship allowance payment to the frontline staff.
Lower footfalls are expected in the current pandemic scenario and it might take time to see normal consumer behavior. Hence the future revenues would continue to remain uncertain.
Conclusion
The shares of D-Mart have fallen by more than 15% over the last one week due to lower than expected results and it closed at  Rs 1989.75 on Friday (17th July). Hence, looking at the above factors, it may take some time for the stock to recover but at the same time, it might give an opportunity to those who want to accumulate the fundamentally strong stock at lower levels for the long term!
Related Posts