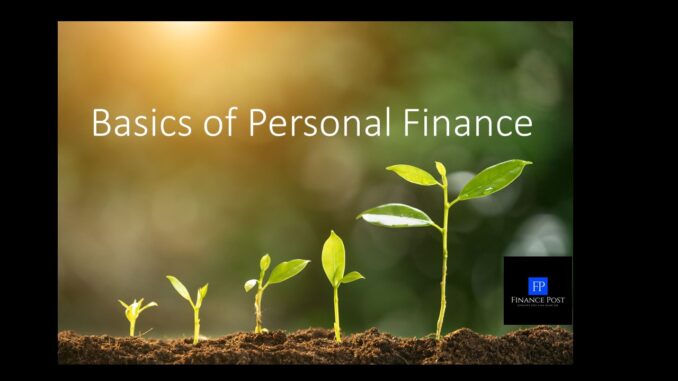 Basics of Personal Finance
Recessions, Pandemics, wars, natural calamities, and economic turmoil everything we witnessed in the last couple of years. While these events time and again show us that time is fleeting and life is short, it also reiterates the importance of timely managing your "Personal Finance".
Basics of Personal Finance to help you bust some myths
Budgeting and Saving
I agree that "Zindagi Na Milegi Dobara"! But if it couples with "Live Life King Size", it can have serious implications on your life; especially if you Don't "Budget and Save" early or properly in your life.
Budgeting is construed negatively by many people, but it's an important life skill. Budgeting and saving is an important element which later turns into a habit!.. a Good Habit!
Begin your budget, with take an estimate of your earnings and expenses and create a budget categorizing priority or essential needs and savings. I personally would categorize my requirements into "Essentials", "Leisure", "Luxury" and "Savings"!
I budget my savings too!!! This is generally aligned with my goals and it gives me a fair idea about how much should I save compulsorily and accordingly can adjust the other buckets like "leisure and luxury".
So, Budgeting and Saving are two important aspects of life. Unfortunately, these two important life skills are not adequately emphasized at the school level. Anyways, better late than never!! We will discuss some budgeting models or saving ideas in detail in other posts.
Determining Goals
Determining goals can be a tough but important job! This will help you channelize your finances in the right direction. For eg: If you want to do a job for a couple of years and then go abroad to study, then you can save or invest in such a way that will reduce your future education funding needs. Determining your goals will help you budget and invest appropriately.
Click here to read about – Goal-based Investing
Managing debts and interest
Raising low-interest-bearing debts is a need and Servicing / repaying the debts timely is a financial discipline. But, that restructuring debts or eliminating high-interest debts is an important task. You can explore more strategies to pay off your debt faster.
Along with debts, another element that is missed by many is "Credit Card Bills". Regular payment of credit card bills is a basic financial discipline. For this too, it's important to build a comprehensive budget.
Emergency Funds/ Retirement Funds
Creating an Emergency fund is need for an hour! An emergency fund can be in terms of cash/bank balance or you can keep investments in liquid / semi-liquid assets like debt funds or even buying appropriate Insurance, etc. can help. But creating an emergency fund will save you from situations like pandemics.
At the same time, one should also start saving for his retirement. Earlier the better! PFs, Gratuity, and FDs are some of the common retirement investment ideas. Apart from that some other investment avenues like pension schemes, insurance schemes, real estate investments, gold bonds, or equity / Mutual Fund investments, etc can also be looked at.
Selection of Investment Bouquet
There are several investment options available in the market to select from. One of the important elements while selecting appropriate Investment options for your portfolio largely is managing "Risks". There are many options that will help you generate High returns but will carry high risks. However, in a situation, low-risk investment options tend to give low or moderate returns. However, every individual doesn't have the same Risk Appetite. Additionally, some situations or times can demand taking a low risk or high risk. Hence evaluation of your risk appetite before investing is a must.
Click here to read how to safeguard investments 
Tax Planning
Appropriate tax planning will help you to manage your finances effectively. There are many investment avenues that can reduce your tax liabilities. So, tax planning can also optimize your personal finances. However you might need some technical knowledge about Income Tax Act / Rules for this. Taking help of a CA is always recommended.
Safe use of technology
Last but not the least, staying alert while handling banking needs online; is become a necessity. Remain careful while using technology to handle finances is required. Sharing passwords, OTPS, clicking on Phishing emails, etc can help the fraudsters more than you. So, be alert while giving OTPs and sharing sensitive information.
Related Posts
Click here to read about passive investing