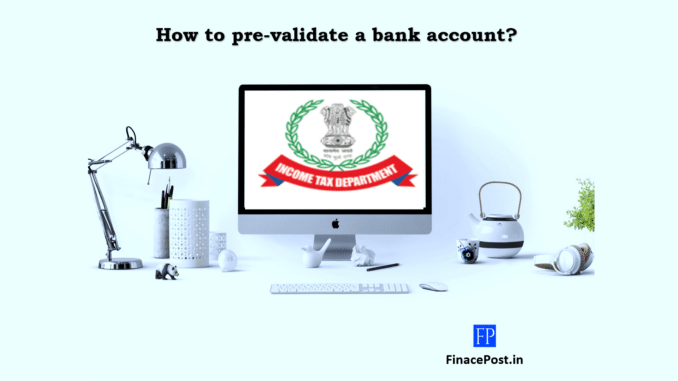 How to pre-validate a bank account?
Step 1 Go to www.incometaxindiaefiling.gov.in.
Step 2 Login with your valid credentials and password.
Step 3 After logging in, on the dashboard go to "Profile Settings"
Step 4  Navigate to "Pre-validate your Bank Account'
Step 5 Enter the following bank account details in the space provided
⇒ Permanent Account Number  (Please make sure the PAN is linked with the bank)
⇒ Name as in PAN (Please make sure the name is the same in PAN and is linked with the bank)
⇒ Bank Account Number
⇒ Account Type – Select from the drop-down list.
⇒ IFSC
⇒ Bank Name
⇒ Branch Name
⇒ Mobile Number (Please make sure the mobile number is linked with the bank)
⇒ E-mail address  (Please make sure the email ID is linked with the bank)
Step 6 After rechecking the details you have entered click on the "Prevalidate"  button.
Step 7 You will be redirected to another page where you will see an acknowledgment of the above request that is submitted. A status update for the same will be sent to your registered mobile number and registered email address.
Alternatively, you can also use your bank's net banking facility to pre-validate your bank account with PAN. This will help in e-verifying your income tax return and ECS credit of income tax refund.
Related Posts