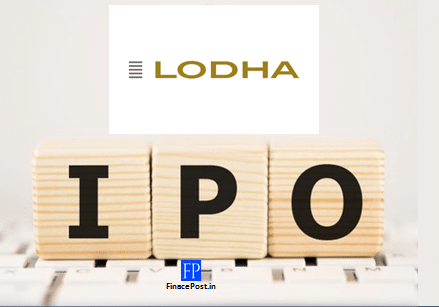 Last updated on May 9th, 2021 at 05:41 pm
Macrotech Developers (formerly Lodha Group) is planning to come up with IPO amounting to Rs 2500 crore (as per RHP). The IPO is coming up on 7th April 2021. Macrotech is a real estate developer since year 1986. Offer details of the issue follows:
Offer Details
Offer Size
2500 crore
of which
Employee reservation portion
Rs 30 crore
Price Band
Rs 483- Rs 486 per share
Offer Period
7th April – 9th April 2021
Offer Structure
QIBs: upto 50% of the offer
NIIs: upto 15% of the offer
RIIs : upto 35% of the offer
Market Lot
Minimum : 30 shares (1 lot) Rs 14,580
Maximum: 390 shares (13 lots) Rs 1,89,540
Listing on
BSE, NSE
BRLM's
ICICI Securities, Edelweiss, IIFL Securities, JM Financial, Yes Securities, SBI Capital Markets, BOB Capital Markets
Registrar
Link Intime
Objects of the offer
Reduction of the aggregate outstanding borrowings on a consolidated basis (Rs 1500 crore)
Acquisition of land or land development rights (Rs 375 crore)
Business Review
Macrotech Developers is engaged in business of residential real estate development with a focus on affordable and mid-income housing. The group has residential projects in the Mumbai Metropolitan region (MMR) and Pune. In 2019, Macrotech forayed into the development of logistics and industrial parks and entered into a joint venture with ESR Mumbai 3 Pte. Limited (ESR), a subsidiary of ESR Cayman Limited, an Asia Pacific focused logistics real estate platform. The Group also develops commercial real estate, including as part of mixed-use developments in and around their core residential projects. Macrotech (Lodha Group) Developers IPO
The brands include Lodha, CASA by Lodha and Crown – Lodha Quality Homes for affordable and mid-income housing projects, the Lodha and Lodha Luxury brands for premium and luxury housing projects, and the iThink, Lodha Excelus and Lodha Supremus brands for office spaces. The inhouse sales team is supported by a distribution network of multiple channels across India as well as key non-resident Indian ("NRI") markets, such as the Gulf Cooperation Council, United Kingdom, Singapore and the United States.
Portfolio of real estate of Lodha Group
Their large ongoing portfolio of affordable and mid-income housing projects include Palava (Navi Mumbai, Dombivali Region), Upper Thane (Thane outskirts), Amara (Thane), Lodha Sterling (Thane), Lodha Luxuria (Thane), Crown Thane (Thane), Bel Air (Jogeshwari), Lodha Belmondo (Pune), Lodha Splendora (Thane) and Casa Maxima (Mira Road).
The premium and luxury housing projects include Lodha Park (Worli), Lodha World Towers (Lower Parel), Lodha Venezia (Parel) and New Cuffe Parade (Wadala).
Financial Assessment
Lodha Group posted total Revenues of Rs 3160 crore for the 9 months ended 31st Dec 2020. The revenues have fallen significantly by 66% as compared to the previous quarter due to the slowdown in business activity due to the pandemic. The total revenues for FY20 increased marginally by 4.86% to Rs12560 crore from Rs 11978. 87 crore in FY19. However PAT has fallen to Rs 745 crore in FY20 from Rs 1643 crore in FY19 owing to increased overall cost. Profit after tax and EBITDA is showing a declining trend since the last three fiscals.  Finance cost has been increasing since the last three fiscals.
Operating margins have been at 25%, 27% and 16% for the last three fiscals 18-20. Net margins have been falling. Trend in operating and net margins can be seen from the chart.
Debt to equity is high at 4.58x for FY20.
[su_table]
Key Financial Highlights
Amount in  INR Crore
For 9 months ending 31st Dec 2020
FY 20
FY 19
FY 18
Total revenue
3160.49
12560.99
11978.87
13726.57
PAT
-264.31
744.84
1643.98
1789.39
EBITDA
925.72
2038.66
3238.92
3489.04
Cash generated from operations
1436.74
3773.17
-463.18
695.99
EPS
-6.83
18.46
41.33
45.10
Return on Net Worth
-7%
17.80%
48.30%
101%
[/su_table]
Chart showing trend in operating and Net Margins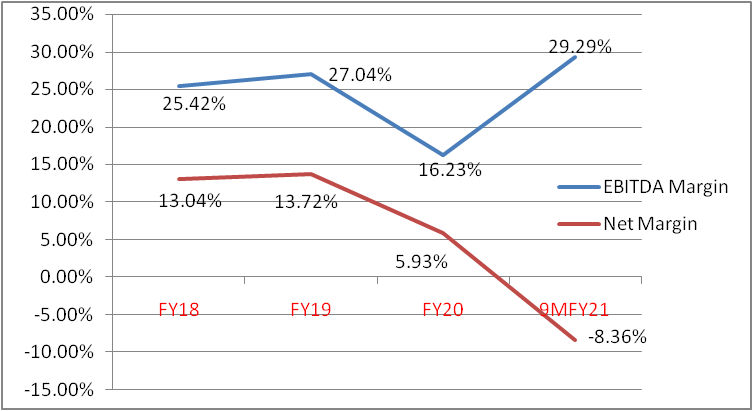 Peer Comparison and Valuation
The listed peers of the Group are Brigade Enterprises, DLF Limited, Godrej Properties, Oberoi Realty, Prestige, Sobha Limited and Sunteck Realty Limited.
The Group has a negative P/E for 9 months ended Dec 31, 2020. The industry average P/E is 42.14 and highest industry P/E is 131.10.  At NAV of Rs 97.03, price to book value is 5.01x at upper price band of Rs 486 per share.
Future Outlook
Lodha Group is engaged in providing core business of residential real estate development with focus on affordable and mid-income housing. The group commenced operations in Mumbai, developing affordable housing projects in the suburbs of Mumbai, and later diversified into other segments and regions in the MMR and Pune.
The structural reforms like GST and RERA have caused several ups and downs in the past few years in the real estate sector. The sector was on the verge of coming out of the effects of these reforms but Covid 19 again hit the sector negatively. Business continuity of the sector was affected and even after the lockdown, the sector is exposed to liquidity problems and even shortage of labour.
Though Lodha Group is one of the top brands in residential markets and it has offered diversified bag of offerings to the customers but there are concerns over its quality of properties it has sold in the past and also in due completion of some of its projects. The track record of its financial performance is not very strong.  Revenue from operations is volatile for the last three fiscals .EBITDA and the PAT is showing a declining trend since the last three fiscals.
It is worth to note here that this is the Issuer's third attempt in launching the IPO! The Issuer belongs to the sector facing many challenges. It has high proportion of debt and further a weaker financial profile. In the light of second wave of pandemic again affecting the economy, it is wise to AVOID the IPO!
Related Posts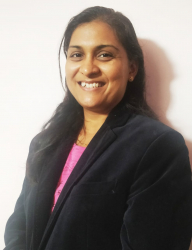 Latest posts by CA Priyanka Choudhary Jain
(see all)
Disclaimer: The above content is for general info purpose only and does not constitute professional advice. The author/ website will not be liable for any inaccurate / incomplete information and any reliance you place on the content is strictly at your risk.
Follow us on Social Media by clicking below
Follow @financepost_in