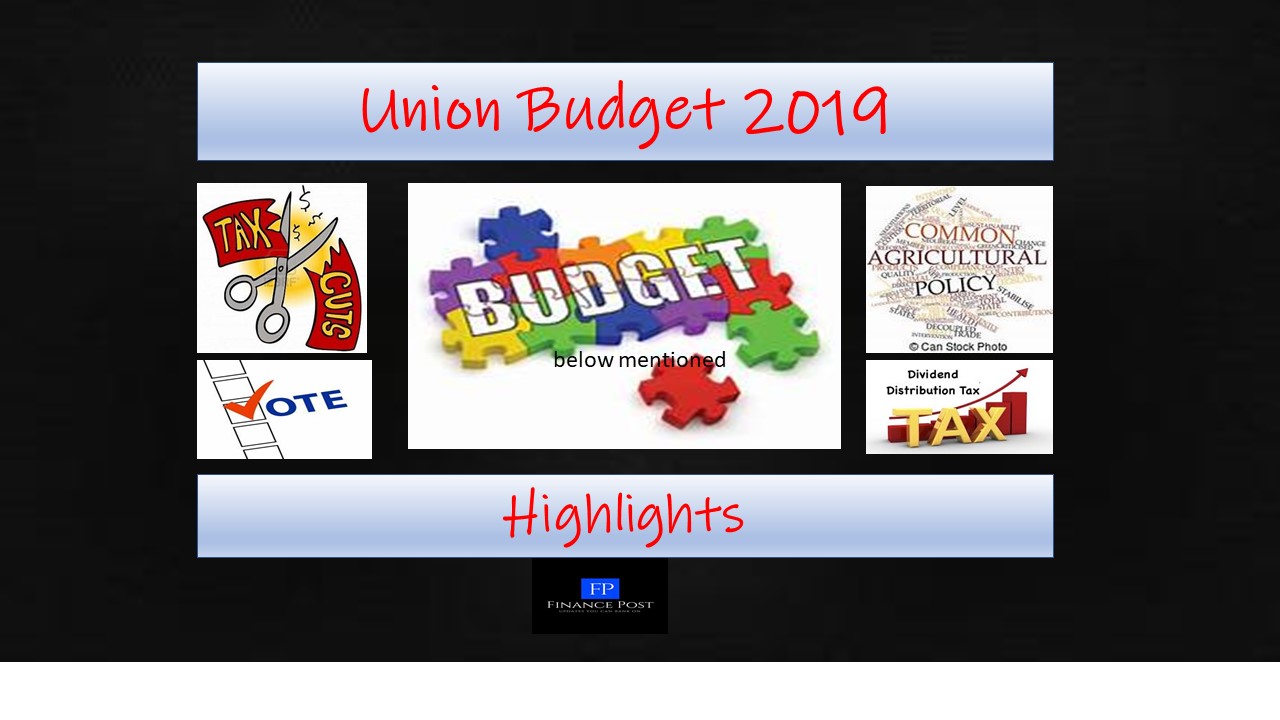 Budget 2019: Why did we like the budget?
The Interim Finance Minister Piyush Goyal presented the most awaited interim Budget for Financial Year 2019-20 (Budget 2019) yesterday on 1st Feb 2019. The budget was anticipated to be good and was good but here are some points that made some taxpayers to really like the budget:
Happy Faces everywhere
The interim FM finished his speech on 12.45 and by then almost all the taxpayers were Happy. He touched almost all the sectors of the economy including the upcoming areas like Artificial Intelligence and climate change. Farmers were happy as the needy and marginal farmers (owning land up to 2 hectors)  will get Rs 6,000 p.a. directly in their bank accounts in three installments. Animal husbandries and fisheries are treated like farmers. Good budget allocation for defence. The concept of "Digital villages" was really fascinating. New pension scheme for unorganized sector was much needed. Healthcare and infrastructure allocations continued. SMEs, Women entrepreneurs and senior citizens have been looked after. And last but not the least, zero tax for income upto Rs 5 lacs made almost everyone happy.. well, not everyone...some are unhappy because most of the people are happy!
Retrospective effect
Some important provisions like aids to farmers or pension to unorganised sector under Pradhan Mantri Shram-Yogi Maandhan has been effective from the current year itself.
Election budget
Many people criticize that the budget is crafted to attract votes and is made considering upcoming elections. But that will not make us "unlike" the budget. Yes, the elections are coming and every smart person will try to make moves to attract votes. Glad that this government is smart too!!
Thank you taxpayer!
"On behalf of all the people of India and our Government, I would first like to thank all our taxpayers for their valuable contribution to nation building and for providing a better life to the poor and marginalized sections of society. Your tax helps provide dignity to our sisters and mothers with toilets and cooking gas connections. Your tax pays for the electricity connections to the poor who lived in darkness for generations. The tax you pay will provide health care to 50 crore brothers and sisters, and children. It is you who is ensuring
respect, dignity, and a secure future to our retired jawans through One Rank One Pension. Thank you, taxpayers……." FM said these words and we realised that this government really values the taxpayers' money and hopefully will do its best to return back all the good things to this genuine taxpayer or to his next generation.
10 year Vision
Another thing that we liked is the vision for the next 10 years was presented in the budget itself and not kept just for election speeches. A clearly laid vision for a decade is another smart move by the government.
Interim Budget
The FM mentioned that this was an interim budget and the provisions related to middle class or senior citizens are announced since they need clarity beforehand.  We can certainly dream for more tax changes in the full budget… maybe some tax sops for corporates… and the deficit numbers on which questions are getting raised might also get revised accordingly.
Cherry on Top – CA FM
Being a Chartered Accountant myself, I am glad and am very sure that the entire CA fraternity is feeling proud to hear another CA presenting the budget!
You may also like: