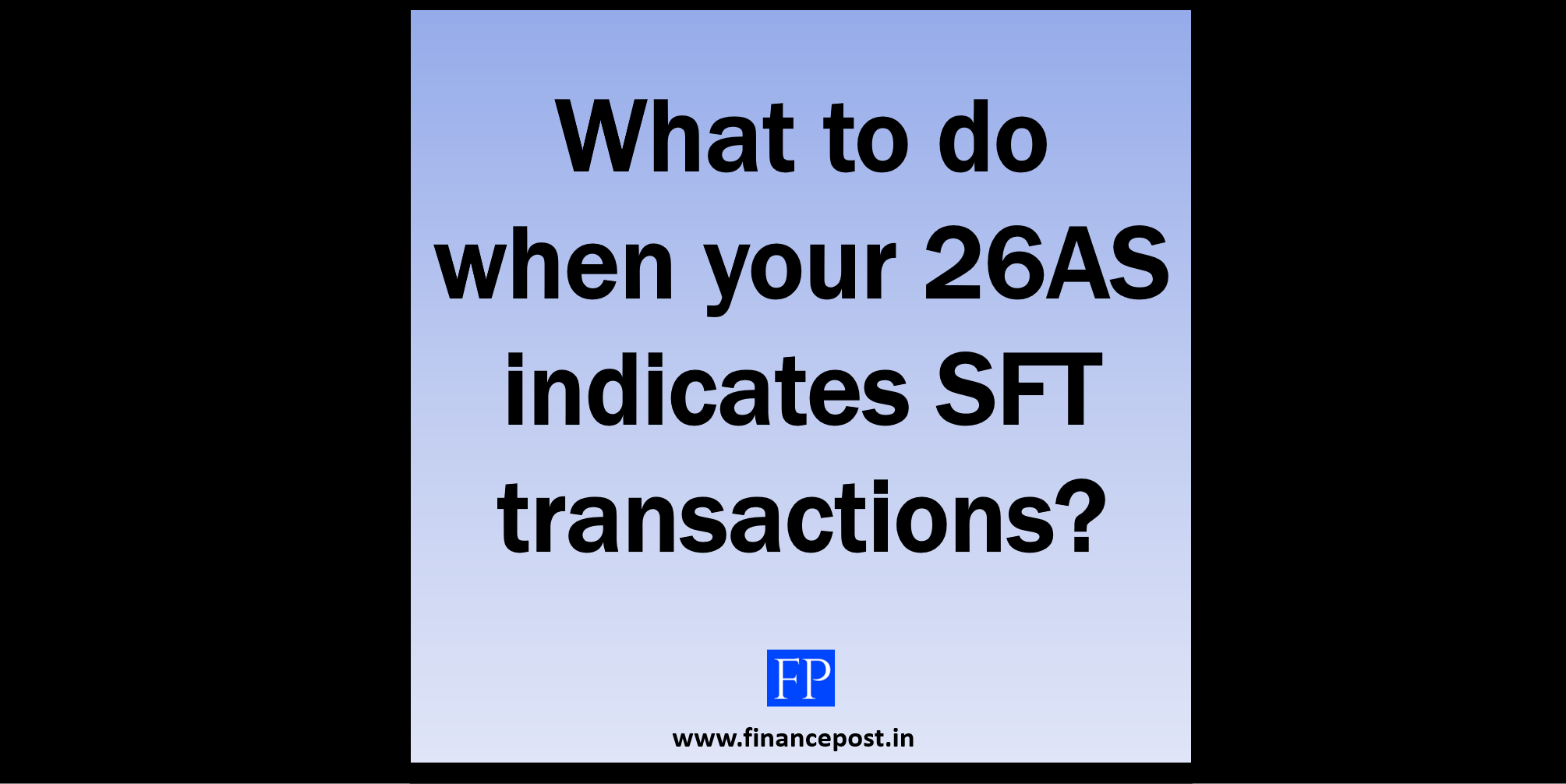 What to do when your 26AS indicate SFT transactions?
New 26AS and SFT filing requirements
CBDT in May 2020, vide notification 30/2020 notified the revised form 26AS to make it more comprehensive. In addition to including the regular information relating to tax deducted or collected at source (TDS/TCS), payment of taxes, refunds, and proceedings, the form will now also include "Information relating to some specified transactions in Statement of Financial Transactions(SFT)" with effect from 1 June 2020.
So, if you download your 26AS for FY 2020-2021 now and if you have done any specified financial transaction in that year, it will get reflected in "Part E" of your new 26AS.
Which transactions are to be reported in SFT and who is responsible to file them?
The government is continually trying to keep a tab on black money and high-value transactions undertaken by the taxpayer. Its en-devour to achieve this, the Income-tax Law has introduced the concept of the statement of the financial transaction. This was previously called 'Annual Information Return (AIR)'.
A statement of the financial transaction also called a reportable account, is required to be filed by certain prescribed entities (discussed below in detail), and by filing Form 61A furnishing the details of specified financial transactions during the year. On the basis of the information provided in the statement of financial transactions, the IT Department keeps a track of the transactions carried on by the taxpayer. Hence it is important for the taxpayer to check the SFT transactions appearing in their 26AS.
As per Section 285BA of the Income Tax Act, 1961 w.e.f 01-04-2015, the following persons are specified entities who are required to furnish a reportable transaction registered/recorded/maintained by them during the financial year to the income-tax authority. Predominantly, the following transactions are covered as "Specified Financial Transactions".
Cash payments for issuance of DD or pay orders or any other bank instruments in excess of Rs 10 lacs.
Cash deposits or withdrawals in excess of Rs 50 lacs.
Time deposits other than renewals in excess of Rs 10 lacs.
Credit card payments in excess of Rs 1 lacs.
Investment in bonds and debentures in excess of Rs 10 lacs.
Purchase/sale of foreign currency in excess of Rs 10 lacs.
Purchase or sale of immovable property.
Sale of goods or services in cash in excess of Rs 2 lacs for persons liable for tax audit u/e 44AB.
Cash deposits up to certain amounts during the demonetization year i.e. from 1st April 2016 to 31st December 2016.
(Click here to read the detailed provision )
In August 2020, the news mentioned that the government is widening the scope of SFT to include transactions like hotel expenses exceeding Rs 20,000/- payments of rent in excess of Rs 40,000/- etc. However, the formal notification in this regard is still awaited.
Who is responsible to file the Specified Financial Transaction report?
The responsibility to file SFT depends and differs based on the transaction. Remember, SFT is a tool for the government to identify the transactions that can attract taxes and makes it easier for the government to check whether the taxes are paid / returns are filed by the respective taxpayers. Hence, the information is collected by various authorities. For eg:
| | |
| --- | --- |
| Transaction | Reporting person |
| Cash payments in DD or pay orders or any other instruments in excess of Rs 10 lacs | Banks including co-operative banks |
| Time deposits in excess of Rs 10 lacs | Banks including co-operative banks, Post Office, Nidhi Company, NBFCs |
| Purchase or sale of immovable property | Inspector General, Registrar or Sub-registrar |
(Click here to read the detailed provision and reporting persons in detail)
In nutshell, if you have purchased or sold an immovable property during the relevant FY, then the concerned Registrar must have reported the same by filing SFT or Form 61A and the details of the same would be appearing in your New 26AS.
What to do when your New 26AS indicates SFT transactions?
As mentioned earlier, SFT transactions incurred by you will be reported by the respective reporting entities to the IT department. In case your 26AS incorporates these transactions, you simply need to ensure that the income related to those transactions has been duly offered to tax / accounted for. Any mismatch or discrepancy between the high-value transaction viz-a-viz the tax return filed by the assessee can trigger the issuance of notices by the IT officers.
For eg. If you have done a Fixed Deposit with a bank for say Rs 15 lacs during the FY, then the same will appear in 26AS as per the reporting done by the bank. You have to ensure that you have appropriately accounted for the income from which FD is made and interest income earned from that FD while filing your tax return.
So, the SFT transactions appearing in your 26AS are correct and you are accurately filing tax returns, just go ahead and file your ITR the same as in a normal scenario.
What do abbreviations like O/R/C in the remarks column stand for?
A brief idea of what the abbreviations in the remarks column stand for
"O" in the remarks column means 'Original Statement uploaded by SFT Filer'
"R" in the remarks column means 'Reversal of Entry in Original/Correction Statement uploaded by SFT Filer'
"C" in the remarks column means 'Correction/Rectification of error in Statement uploaded by SFT Filer'
Related Posts