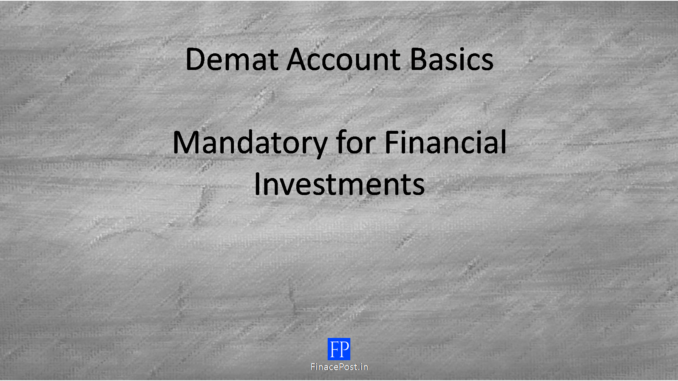 Why an investor needs a Demat account?
Do you want to invest in the markets during corrections or in a good IPO? But you don't have Demat (Dematerialized) account. Well then, opening a Demat account is the foremost need to begin with your investments because nowadays entire financial spectrum of investments and trading has become digitized. Demat accounts have become a necessity; it facilitates seamless buying, selling and tracking of funds from anywhere throughout the world.
What is a Demat Account?
Demat Account is an account that holds shares and securities in electronic format, making share trading much easier for the users. This account holds financial securities like shares, mutual funds, bonds, government securities etc. in an electronic form. The purchase or sale of shares would credited or debited to/from demat Account respectively.
What are the Benefits of Demat?
Hassle free and convenient as eliminates paper work
Low transaction cost
Facilitates increased volume of trading
Reduces risk and can be used as loan collateral
Who is a Depository and Depository Participants?
In India, demat is maintained by two depository organizations National Securities Depository Limited (NSDL) and Central Depository Services Limited (CDSL), where all electronic securities are held. Service of any of above two depositories is available to investors through depository participants acting as an intermediary between the investor and the depository. Participants can be bank, stock brokers like Zerodha, 5 Paisa, financial institution, or custodian.
Investors can open and maintain their demat account with these depository participants. These participants fulfill SEBI guidelines as well as sign agreement with SEBI to be a depository participants. It is to be noted that the Demat account charges may vary for each intermediary depending on volumes traded, type of subscription and terms and conditions between a depository and a stockbroker.
What is the difference between a Demat account and Trading account?
People, new to stock market investing are often confused regarding the requirement of opening both the accounts to trade in stocks and further whether both accounts can be maintained with different participants or same.
The investors need to understand that trading account is used to buy or sell orders in stock market, while demat account is used as a bank where shares bought are deposited. Hence it is mandatory to open both the accounts. Usually, alongwith the Demat account investor also gets a linked trading account in which the purchase and selling of securities is done.
What are the types of Demat Account?
  Regular demat account :- Used by investor residing in India.
  Repatriable demat account :- Used by NRIs under which funds can be transferred abroad.
  Non Repatriable demat account :- Used by NRIs with no transfer of fund
How does a Demat account works?
An investor can begin trading by placing an order through online trading account. After placing the order, the exchange processes the order. The account shows the market price and the quantity placed for verification before executing the order. Once the processing is complete, shares are reflected in the statement of holdings. When the shares are to be sold, delivery instruction note has to be provided alongwith details of shares. Shares are then debited and corresponding cash value is credited to trading account. This account balance can easily be transferred to the bank account linked with the demat account.