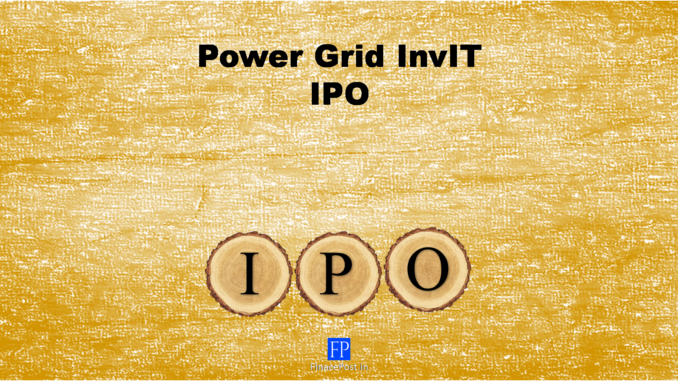 Power Grid InvIt is set to raise Rs 4995 crore through IPO by selling new units of the Trust. The IPO also includes an offer for sale of Rs 3000 crore. The offer opens on 29th April 2021 and closes on 3rd May 2021.
Power Grid InvIT IPO is the third InvIT IPO to be listed in the Indian Markets after IRB InvIT and India Grid Trust, both IPO raised in the year 2017. Offer Details of the IPO follows
| | |
| --- | --- |
| Offer Details | |
| Offer Size | Rs 7993.48 crore |
| of which | |
| Fresh Issue | Rs 4993.48 crore |
| Offer for Sale | Rs 3000 crore |
| Price Band | Rs 99-Rs 100 per unit |
| Offer Period | Apr 29 2021- May 3 2021 |
| Offer Structure | NIIs: upto 25% of the offer |
| Market Lot | Minimum bid (1100 units) ; Rs 1,08,900-Rs 1,10,000 |
| Listing on | BSE, NSE |
| BRLM's | ICICI Securities, Edelweiss, Axis Capital, HSBC Securities |
| Registrar | Kfintech |
Objects of Power Grid InvIT IPO
Providing loans to the Initial Portfolio Assets for repayment or pre-payment of debt, including
any accrued interest, availed by the Initial Portfolio Assets
General Purposes
Important Dates of Power Grid InvIT IPO
| | |
| --- | --- |
| Power Grid InvIT IPO Key Dates | |
| Basis of Allotment | May 10, 2021 |
| Refunds | May 11, 2021 |
| Credit to Demat Account | May 11, 2021 |
| Listing Date | May 17, 2021 |
What is Infrastructure Investment Trust (InvIT)?
An Infrastructure Investment Trust (InvITs) is an Investment Scheme similar to a mutual fund, which enables direct investment of money from individual and institutional investors in infrastructure projects to earn a small portion of the income as return. The InvITs are regulated by the SEBI (Infrastructure Investment Trusts) Regulations, 2014.
InvITs are set up to promote the infrastructure sector of India by encouraging  individuals to invest in it and can be modified according to a given situation. Typically, this type of a structure pools money from several investors to be invested in income-generating assets. The cash flow thus generated is distributed among investors as dividend income.
About Power Grid InvIT
Power Grid InvIT is set-up to own, construct, operate, maintain and invest as an infrastructure investment trust as permissible in terms of the InvIT Regulations, including power transmission assets in India. The InvIT is registered with SEBI as on January 7, 2021. Power Grid Corporation of India Limited is the sponsor of InvIT.
The Sponsor is engaged in project planning, designing, financing, constructing, operating, and maintaining power transmission projects across India and undertakes operations in the Indian telecom infrastructure sector. As of December 31, 2020, the Sponsor also provides transmission and distribution consultancy services in India and other jurisdictions, with footprints in 21 countries (including India).
Powergrid Unchahar Transmission Limited, a wholly-owned subsidiary of Power Grid is the investment manager of the InvIT. The investment manager is responsible for managing the InvIT, the Initial Portfolio Assets as well as undertaking investment decisions relating to the assets like future acquisitions, divestment, or enhancement of assets.
Investment Manager has been engaged in the power transmission business since Fiscal 2014 and has relevant infrastructure sub-sector experience owing to its involvement in the construction and operation of a transmission system.
The InvIt has a credit rating of Provisional [ICRA] AAA (Stable), CARE AAA (Is); Stable and Provisional CCR AAA/Stable by ICRA Limited, CARE Ratings Limited and CRISIL Ratings Limited, respectively.
Power Grid InvIT IPO Subscription Status
Power Grid InvIT IPO Subscription Status {no. of times (x)}
Particulars
Shares Offered
29th Apr
30th Apr
 3rd May
QIB
23,20, 49,400
0.03
0.38
 4.63
NII
19,33,75, 600
0.06
0.88
 5.06
Total
42,54,25,000
0.04
0.60
 4.83