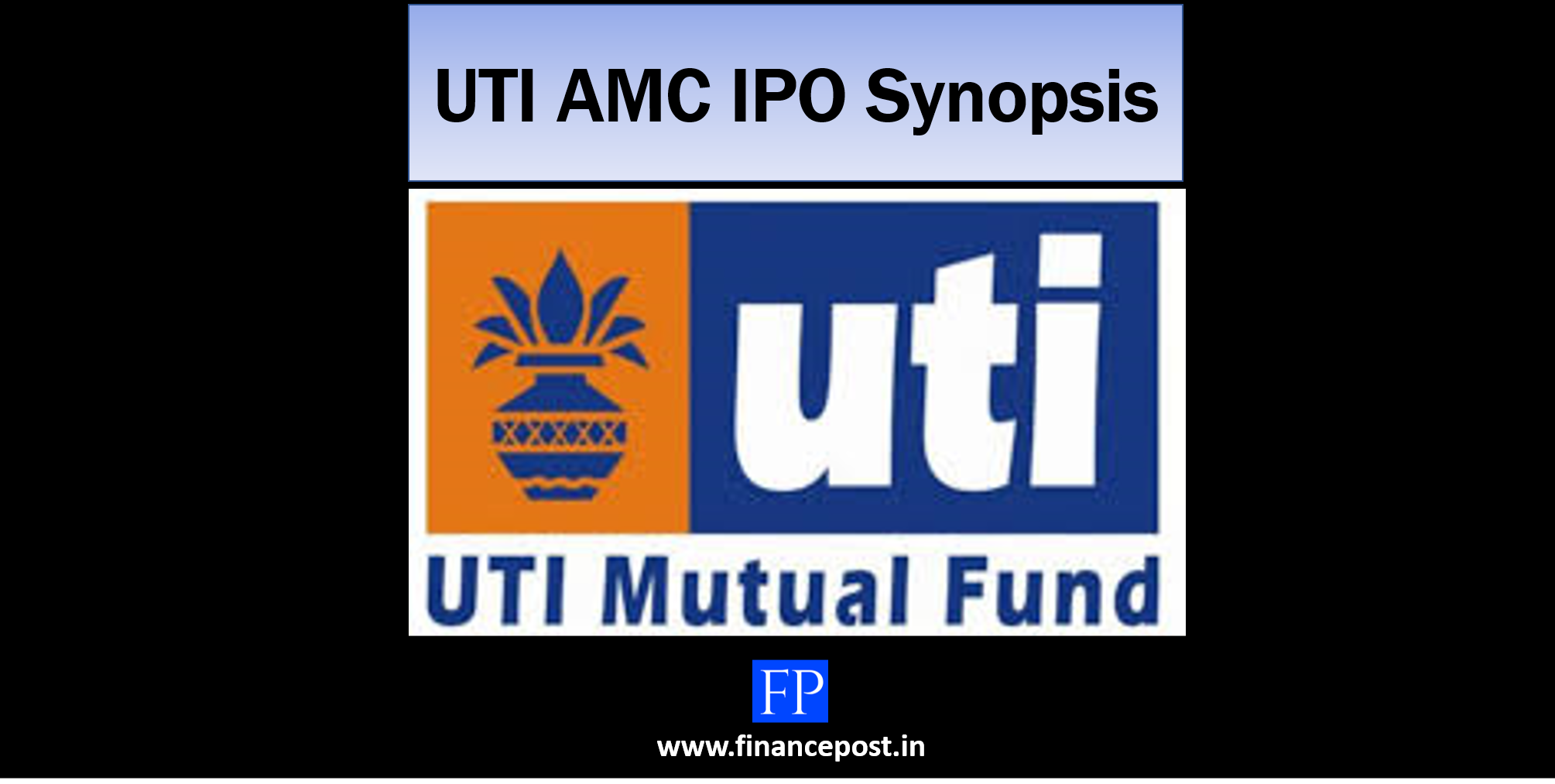 Last updated on May 9th, 2021 at 03:52 pm
UTI AMC IPO Synopsis
UTI IPO size
UTI AMC is coming up with an IPO of equity shares of 38,987,081 amounting to Rs 2160 crore. It is purely an offer for sale and the company will not receive anything from the proceeds. The offer of sale includes
By SBI: Upto 10,459, 949 equity shares
By LIC: Upto 10,459, 949 equity shares
By BOB: Upto 10,459, 949 equity shares
By PNB: Upto 38, 03,617 equity shares
By TRP: Upto 38, 03,617 equity shares
The offer includes a reservation of 200,000 equity shares for purchase by eligible employees.
UTI price band: Rs 552- Rs 554 per share
UTI Open and close date
Open Date: 29th September 2020
Close Date: 1st October 2020
BRLM of Issue:
Kotak Investment banking
Axis Capital
Citigroup Global Markets
BofA Securities
ICICI Securities
JM Financial
SBI Capital Markets Limited
Registrar to the offer: KFintech
Registrar to the issue: Bigshare Services Pvt Ltd.
Key Highlights
An independent asset manager with a strong brand and diverse portfolio. The second-largest Asset Management Company in India in terms of total AUM and eighth-largest asset management company in India in terms of mutual fund QAAUM as of June 30, 2020, according to CRISIL. As of June 30, 2020, total QAAUM for domestic mutual funds (Domestic Mutual Fund QAAUM) was 1,336.3 billion, while another AUM was 8,493.9 billion.
Track record of developing retirement solutions that enhance the brand value. Caters to a diverse group of individual and institutional investors through a wide variety of funds and services. UTI manages the domestic mutual funds, provide portfolio management services (PMS) to institutional clients and high net worth individuals and manage retirement funds, offshore funds and alternative investment funds.
Schemes offered by UTI: UTI manages 153 domestic mutual fund schemes as on June 30, 2020, comprising
Equity schemes (43.2%)
Income schemes (14.5%)
Hybrid schemes (14.1%)
Liquid/ Money Market (28.2%)
Solution-oriented schemes (Retirement Funds, children's fund; part of other AUM)
Other schemes (ETF's, Fund of Funds; part of other AUM)
Multiple distribution channels with wide reach across India. Access to 697 out of 722 districts in India. As of June 30, 2020, UTI's distribution network includes 163 UTI Financial Centres (UFCs), 257 Business Development Associates (BDAs) and Chief Agents (CAs) (40 of whom operate Official Points of Acceptance (OPAs)) and 43 other OPAs, most of which are in each case located in B30 cities.
Manage retirement funds (in the retirement solutions business, which manages the National Pension System (NPS) funds), offshore funds (including the Shinsei UTI India Fund, a co-branded fund with Shinsei Bank of Japan), and alternative investment funds. These other businesses (excluding domestic mutual funds and PMS business) had an aggregate closing AUM of 1523.4 billion as of June 30, 2020.
Disciplined and rigorous investment process. A portfolio constructed in the light of investment objectives and investment strategies.
Strong governance structures and prudent risk management policies. Digital initiatives taken to enhance the experience of customers and thus aid in retention and loyalty.
The topline and the bottom line both are showing a declining trend since FY19. Total revenues for FY20 has reduced by 17% to Rs 890 crore (FY19: Rs 1080 crore). This is due to the adverse effects of the pandemic wherein clients have withdrawn mutual funds due to volatile equity markets. There has also been some reduction in inflows and SIP Live Folios and the mutual fund industry has also experienced SIP stoppages.
Domestic Mutual Fund QAAUM has decreased by 11.8%, in the three-month period ended June 30, 2020, compared to the fiscal year ended March 31, 2020. However, the operating and the net margins are robust at 43% and 24% respectively in FY20. Debt to equity is very low for the AMC.
Challenges
Retail participation in mutual funds and other market-linked products are heavily influenced by market performance and sentiment. A prolonged downturn or ongoing volatility could result in a decline in industry AUM or a shift to relatively lower-risk assets.
Sustainability of revenues amidst the peer competition as management fees may have to be lowered to attract more clients which may bring the margins down.
Conclusion
The listed peers of UTI AMC are HDFC AMC and Nippon Life  Asset Management Limited as per RHP. However, other players in the industry are ICICI Prudential, Axis mutual fund, Aditya Birla Sun Life Mutual Funds among many others. The P/E of UTI is 25.73 at the upper price band which is low as compared to the industry peer P/E average of 38.64. This signifies that the IPO is attractively priced. At NAV of Rs 217.88 in FY20, P/BV is 2.54. Considering the strong brand of UTI and being one of the large AMC, the proposed issue has garnered huge interest among the investors; thus it might bring in listing gains and long-term growth as well.
Related Posts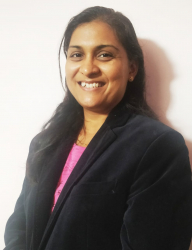 Latest posts by CA Priyanka Choudhary Jain
(see all)
Disclaimer: The above content is for general info purpose only and does not constitute professional advice. The author/ website will not be liable for any inaccurate / incomplete information and any reliance you place on the content is strictly at your risk.
Follow us on Social Media by clicking below
Follow @financepost_in