Last updated on May 9th, 2021 at 01:43 pm
Likhitha Infrastructure Private Limited IPO Synopsis
Likhitha Infra IPO size
Incorporated in Andhra Pradesh in the year 1998, Likhitha Infrastructure is coming up with an IPO of 51,100,000 equity shares of the face value of Rs 10 each amounting to Rs 61.20 crore. It comprises of a fresh issue of 51,100,000 equity shares of Rs 10 each.
Likhitha Infra price band
Rs 116- Rs 120 per equity share.
Likhitha Infra Open and close date
Open Date: 29th September 2020
Close Date: Extended till 7thOctober 2020
Objects of the offer
For working capital requirements (Rs 47 crore)
For general corporate purposes.
BRLM of Issue: Unistone Capital Pvt. Ltd.
Registrar to the issue: Bigshare Services Pvt Ltd.
Key Highlights
Geographically well diversified. The Issuer has a presence (including past operation) in more than 16 states and 2 Union Territories in India. Likhitha Infra has successfully laid over 600 kms of Oil and Gas pipelines including steel and Medium-Density Polyethylene ("MDPE") network in the past 5 fiscals. The company has executed 10.75" OD x 69 Kms Petroleum Product Pipeline for the first-ever Trans-National Cross-Country Pipeline of South-East Asia connecting India to Nepal, in the Year 2019, for the supply of petroleum products.
Likhitha Infra business can be divided into:
Pipeline Infrastructure projects: Comprises of undertaking projects for laying of pipelines in CrossCountry Pipeline projects as well as for setting up City Gas Distribution network and construction of associated facilities. It includes works related to civil works at the site, mechanical and piping works, electrical, instrumentation and optical fibre works.
Operating and maintenance services: LIPL has commenced the O&M services business in the year 2014 and has generated revenues of Rs. 6.43 crore, Rs. 19.79 crore and Rs. 34.26 crore for fiscal 2018, 2019, and 2020 respectively, representing 7.38%, 14.40%, and 21.25% respectively of total revenue from operations during such periods. Likhitha Infra presently provides comprehensive O&M services in various regions in Delhi-NCR and Bengaluru.
Contracts are primarily awarded through the "Competitive Bidding" Tender method based on a combination of factors amongst which technical qualifications, proposed project team, schedule, past performance on similar projects, the bid amount are the major determining factors.
The financial performance of Likhitha Infra is strong; it has shown consistent and strong financial performance indicators since the last three fiscals. The total revenue for FY 20 has increased by 15% to Rs 162.8 crores. PAT has increased to 19.8 crores in FY 20 from 17.9 crores in FY 19. Operating and net margins are strong at 19.18% and 12.14% in FY 20 and FY 19 respectively.
Large equipment asset base, technical expertise, and project execution capabilities are significant competitive advantages that aid in procuring contracts for projects.
Likhitha Infra posted a healthy RoNW of 28.24% in FY 20. Cash flow from operations has plummeted in FY20 (in the year of IPO) to Rs 19.16 crore from Rs 3.19 crore in FY19!
Challenges
Dependent on a few clients; a significant reduction in purchase orders from such clients could adversely affect its business and financials.
Delay in the completion of projects may adversely affect financial performance.
Conclusion
Likhitha Infra is geographically well-diversified and has an efficient business model required for growth. It has a strong balance sheet aided by healthy margins and profitability. However, dependency on a few customers and project execution delays remain its key challenges. Being a small-sized company, it could be more vulnerable to market risks and sentiments. Also, the BRLM associated with the IPO has handled two issues of which one has listed below the listing price. Hence Investors may avoid this IPO and can invest post listing for the long term. 
Likhitha Listing update
Likhitha Infra IPO listed at 8% premium @Rs 130 per share.
Related Posts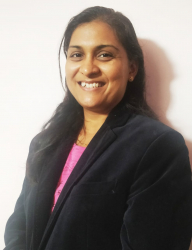 Latest posts by CA Priyanka Choudhary Jain
(see all)
Disclaimer: The above content is for general info purpose only and does not constitute professional advice. The author/ website will not be liable for any inaccurate / incomplete information and any reliance you place on the content is strictly at your risk.
Follow us on Social Media by clicking below
Follow @financepost_in