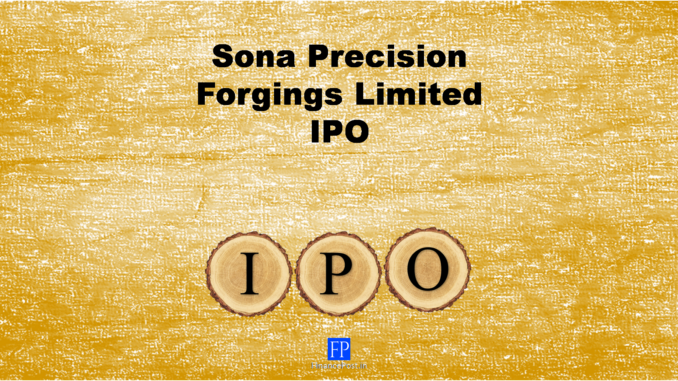 Sona Comstar
Subscription Status of Sona Comstar
| | | | | |
| --- | --- | --- | --- | --- |
| Subscription Status [no. of times,(x)] | | | | |
| Particulars | Shares Offered | 14th June | 15th June | 16th June |
| QIB | 5,84,21,052 | 0.02 | 0.14 | 3.46 |
| NII | 2,92,10,526 | 0.01 | 0.04 | 0.39 |
| Retail | 1,94,73,684 | 0.51 | 1.02 | 1.55 |
| | | | | |
| Total | 10,71,05,262 | 0.11 | 0.27 | 2.28 |
Sona Comstar, an auto component manufacturer was incorporated in the year 1995 with its registered office in Haryana. The company is coming up with its IPO on 14th June 2021 with an offer size of Rs 5550 crore. The offer comprises of both a fresh issue and an offer for sale. Further offer details follow:
Offer Details of Sona BLW Precision Forgings Limited IPO
Offer Details
Offer Size
Rs 5550 crore
    of which
Fresh Issue
Rs 300 crore
Offer for sale
Rs 5250 crore
Price Band
Rs 285-291 per share
Offer Period
June 14 – June 16, 2021
Offer Structure
QIBs: upto 75% of the offer
NIIs: upto 15% of the offer
RIIs : upto 10% of the offer
Market Lot
Minimum (51 shares) Rs 14,841
Maximum ( shares) Rs 3,73,964
Listing on
BSE, NSE
BRLM's
Kotak Investment Banking, Credit Suisse, JM Financial, J.P. Morgan, Nomura
Registrar
Kfintech
Objects of the Offer
Fresh issue proceeds of Rs 300 crore would be utilized for
Repayment and pre-payment of identified borrowings in full availed by the Company (Rs 241.12 crore)
Corporate purposes.
Fundamental Analysis- Shyam Metalics IPO
Business Review of Sona Comstar
The Issuer is an automotive technology company, designing, manufacturing, and supplying highly engineered, mission-critical automotive systems and components such as differential assemblies, differential gears, conventional and micro-hybrid starter motors, BSG systems, EV traction motors (BLDC and PMSM), and motor control units to automotive OEMs across US, Europe, India, and China, for both electrified and nonelectrified powertrain segments.
Sona Comstar has nine manufacturing and assembly facilities, of which six are located in India and one each in China, Mexico, and USA, as well as eight warehouses across India, USA, Germany, and Belgium. Income from the sale of goods to the top ten customers accounted for 79.0%, 80.8%, and 79.6%, of total income for FY 19, Fy20 and FY21 respectively.
Some of the key OEM customers include a Global OEM of EVs, a North American OEM of PVs and CVs, Ampere Vehicles, an Indian OEM of PVs, CVs and EVs, Ashok Leyland, CNH, Daimler, Escorts, Escorts Kubota, Geely, Jaguar Land Rover, John Deere, Mahindra and Mahindra, Mahindra Electric, Maruti Suzuki, Renault Nissan, Revolt Intellicorp, TAFE, Volvo Cars and Volvo Eicher.
Key Financials
Financials and Ratios
Amount in  INR Crores
FY 21
FY 20
FY 19
Total revenue
1568.64
1043.77
702.5
PAT
215.17
360.34
173.18
EBITDA
443.35
320.90
376.65
Total Assets
2174.83
1850.68
1632.56
EBITDA Margin
20.39%
17.34%
23.07%
Net Margin
9.89%
19.47%
10.61%
Valuation Parameters
| | | | | |
| --- | --- | --- | --- | --- |
| Valuation Parameters | P/E | NAV | P/BV | EPS |
| | 77.39 | 22.75 | 12.79 | 3.76 |
Important Dates of Sona Comstar IPO
| | |
| --- | --- |
| Important dates of Sona Comstar IPO | |
| | |
| Basis of allotment | June 21, 2021 |
| Refunds | June 22, 2021 |
| Credit to Demat account | June 23, 2021 |
| Listing date | June 24, 2021 |