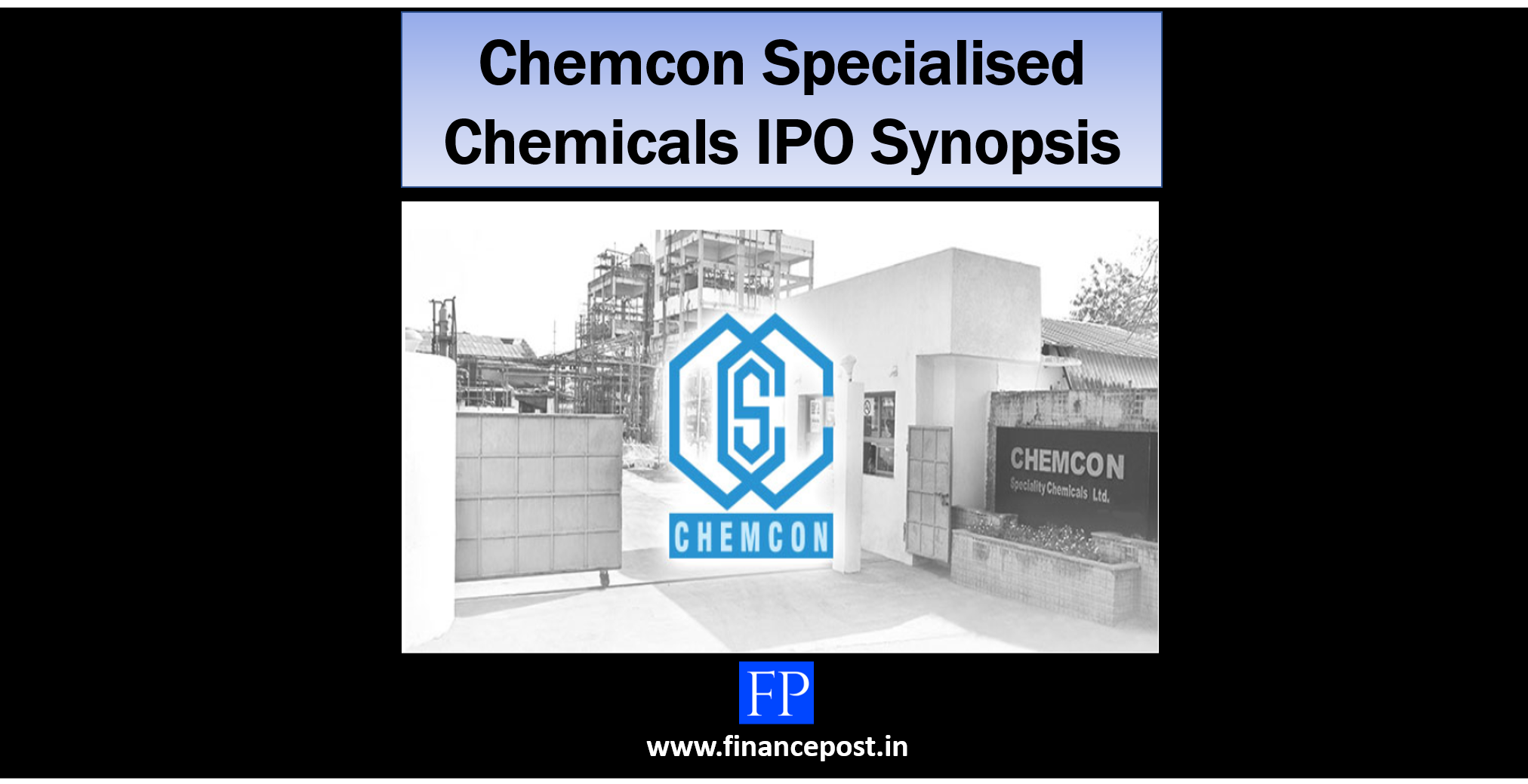 Last updated on May 9th, 2021 at 10:46 am
Chemcon Specialised Chemicals IPO Synopsis
IPO Size
Chemcon Specialised Chemicals is coming up with an issue of 9,352,940 equity shares amounting to Rs 318 crore. IPO comprises of:
Fresh issue of 4,852,940 equity shares amounting to Rs 165 crore.
Offer for sale of 4,500,000 equity shares amounting to Rs 153 crore.
Price band of the IPO is Rs 338 – Rs 340
Issue open date: 21st September 2020
Issue close date: 23rd September 2020
Objects of the offer
Capex towards the expansion of manufacturing facility (Rs 41 crores)
To meet working capital requirements (Rs 90 crores)
IPO Offer size by category of investors
QIB 50%
Retail 35%
NII 15%
BRLM of the issue
Intensive Fiscal Services Pvt Ltd.
Ambit Capital Pvt. Ltd.
Registrar to the Issue 
IPO Lot size and price (Retail)
Minimum Lot size (1), 44 shares amounting to Rs 14,960
Maximum Lot size is (13), 572 shares amounting to Rs 194,480
Key Highlights
⊗ Only manufacturer of HMDS in India and third largest manufacturer worldwide (in terms of production). The largest manufacturer of CMIC in India and the second largest worldwide in terms of production. HMDS and CMIC are specialized chemicals predominantly used in the pharmaceutical industry (the "Pharmaceutical Chemicals"), and inorganic bromides, namely Calcium Bromide, Zinc Bromide and Sodium Bromide, predominantly used as completion fluids in the oilfields industry. The manufacturing facility is located at Manjusar near Vadodara in Gujarat.
⊗ Presence in domestic and international markets. The products are exported to the United States of America, Italy, South Korea, Germany, China, Japan, the United Arab Emirates, Serbia, Russia, Spain, Thailand and Malaysia.
⊗ Consistently strong financial track record with strong operating margins of 28% and net margins of 19% in FY20.
⊗Total revenue for the year ended has reduced to Rs 266.02 crore in FY 20 from Rs 305.33 crore in FY 19. However, PAT has increased by 13% to Rs 49.34 crore in FY 20 (Rs 43.41crore in FY 19)
⊗ In FY 2020, 2019 and 2018, the pharmaceutical chemicals segment contributed 63.75%, 63.14% and 62.18% of our total revenue from operations respectively while Oilwell Completion Chemicals, contributed 33.47%, 35.30% and 35.63% respectively of total revenue from operations.
⊗ In FY 2020 2019 and 2018, 39.78%, 31.99% and 47.84% of revenue from operations were from exports.
⊗Return on Net worth is strong at 33% in FY 20. Cash generated from operations is Rs 10.5 crore in FY20.
⊗ Pharmaceutical chemicals were categorized as essential goods during the lockdown but the reduced demand for oil and gas in Fiscal 2021 has resulted in reduced demand for Oilwell Completion Chemicals.
⊗ Well-equipped in house testing laboratories for new product development.
⊗ Capability of expanding the production volumes.
⊗Nearly debt-free
Challenges
⊗Limited product portfolio; revenue concentration in the pharmaceuticals segment.
⊗ Concentrated client base; the top five customers contributed 59% of revenue from operations.
⊗ Top five customers and our top ten customers contributed 59.35% and 72.26%, respectively of total revenue from operations in FY20, as compared to 45.94% and 67.56% in FY19. The key customers of pharmaceutical chemicals include Hetero Labs Limited, Laurus Labs Limited, Aurobindo Pharma Limited, Sanjay Chemicals (India) Private Limited, Lantech Pharmaceuticals Limited, Ind -Swift Laboratories Limited, Vivin Drugs & Pharmaceuticals Limited and Macleods Pharmaceuticals Limited and the key customers of Oilwell Completion Chemicals include Shree Radha Overseas, Water Systems Specialty Chemical DMCC and CC Gran Limited Liability Company.
⊗ High working capital requirement.
Conclusion
⊗ Chemcon Specialised Chemicals has consistently shown strong financial performance. P/E at 22.12 (at higher price band) makes the issue appears reasonably priced and the industry peer group average P/E is about 31.30. The peers include Aarti Industries, Vinati organics, Neogen Chemicals and several other players and directly it is comparable to Paushak Limited which has a P/E of 31.23.
⊗ The expansion of the manufacturing facility with IPO proceeds would result in increased total volumetric reactor capacity at the manufacturing facility from 374.85 KL to 625.85 KL. Also, Chemcon Specialised Chemicals aims to market its products in other industries like rubber and semiconductor manufacturing. India is currently a net importer of both HMDC and CMIC; Chemcon being the only producer of HMDS in India aims to capitalize on this business opportunity by substituting imports and catering to India's growing HMDS market. Thus one may subscribe to the IPO for listing gains and long term as well.
Related Posts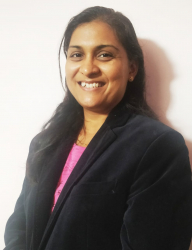 Latest posts by CA Priyanka Choudhary Jain
(see all)
Disclaimer: The above content is for general info purpose only and does not constitute professional advice. The author/ website will not be liable for any inaccurate / incomplete information and any reliance you place on the content is strictly at your risk.
Follow us on Social Media by clicking below
Follow @financepost_in