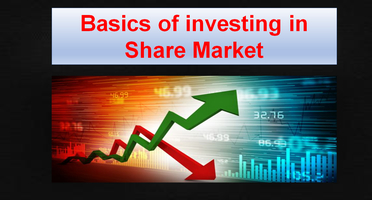 Last updated on July 19th, 2022 at 08:50 am
Basics of Investing in Share Market
INTRODUCTION
Making an investment and earning in the stock markets can be confounding for many of us. There are many investors who have made fortunes and many on the
contrary have lost all. There really is no particular trick of making money in the stock markets. It is important for an average investor to understand the markets
and make strategies to build a robust long-term portfolio.
Value investing is simple and is required for the investor to follow certain basic rules.
Investment in the quality business, which has shown consistent earnings.
Study of a company's annual reports.
Long-term investors must not be concerned with the short-term gyrations in the stock market.
You are not buying stocks you are buying part of the business.
INTRODUCING VALUE INVESTING
The investment decision is based on two main approaches.
A top-down approach – In this approach, the investor needs to make the decision by predicting the future. In this approach, there are many unforeseen factors that affect as future prediction is difficult.
A bottom-up approach – In this approach, the past and present of the business are to be understood and on that basis, its future performance of the business is been estimated.
The bottom-up approach to investing funds is considered to be more feasible and viable.
Some common misconceptions about value investing
If you are looking on to short-term gains than you surely cannot beat the markets. Long-term investors who are ready to invest for five years or
more may see good returns over their investment.
Investor thinks that much information needed to research the stock is costly and difficult to understand, but with the SEC (Security Exchange
Commission) it is mandatory to make all sorts of disclosure and hence a common man can get all information to make a proper decision.
Value investing is all about buying quality stocks. Investors are more interested in buying stocks available at low price. Such stocks prices are
low and their growth is also low.
Investing in growth stocks than value stocks. Difference between the two is not much. Prices of growth stocks are higher whereas returns on both these are almost the same.
DECISION-MAKING PROCESS
Start With the Management
The objective of the company should be focused on increasing the shareholders' value. Management should be transparent and truthful. Their working should be rational. One must also refer to the annual reports of the business before taking any decision on investment.
A business that sustains its competitive advantage has a higher growth. "Economic Moat" – It depicts how big the company's competitive edge is. It includes Cost consideration, Brand loyalty, ease to switch and protection. Thus investing in the business with enduring competitive advantage is of vital importance.
The price of Stock Vs. the Value of Company
A long-term investor should accumulate shares when the prices are low. Lower prices are good when an investor plans to hold the stock for long term. The
prices are low when the valuation of the company is down. The price of the stock is low and attractive to investors only when they are less than its underlying
value. Paying high for the stocks of a very good company is also not a good decision because it may take a very long time to get the returns on the high price
that an investor has paid.
Reading the Financial Statement
The health of the business and its future earning ability can be estimated from the financial statements.
⇒ Consolidated statement of cash flow
⇒ Consolidated balance sheet
⇒ Consolidated Statement of income
You may also like : 
Disclaimer: The above content is for general information purpose only and does not constitute professional advice. The author/ website will not be liable for any false, inaccurate, incomplete information. Any reliance you place on above content is therefore strictly at your risk.
Follow us on social media by clicking below
Follow @financepost_in