Last updated on May 9th, 2021 at 10:34 am
RailTel (Mini Ratna, Category- I) was incorporated in the year 2000 to modernize the existing telecom system for train control, operation and safety. The PSU is engaged in creating nationwide broadband and multimedia network by laying optical fiber cable using the right of way along railway tracks.
RailTel's portfolio of services can be broadly classified as below:
Telecom Network Services
National Long Distance Services: It provides digital capacity to carry long distance telecommunication services. Offers tele-services including voice, data, fax, text, video and multimedia.
Internet Service Provider Services: Offers enterprise customers Internet leased line services with multiple bandwidth options ranging from 2 MBPS and above across India. Broadband services are offered through 'RailWire' platform.
Telecom Infrastructure Services
Passive Infrastructure Services: Provides storage, power, cooling, and physical security for servers and networking equipment of the customers and connect them with a variety of telecommunications and network service providers.
Managed Data Center and Hosting Services 
Data Centre and Managed Hosting Services: RailTel offers a variety of data centre services like dedicated hosting, managed services, cloud computing, managed e-Office services, disaster recovery services, Aadhar authentication services and other IT related services.
Telepresence Services ("TPaaS"): End-to-end, high-definition, secure, hosted multitenant video conferencing facility bundled with required bandwidth as a service.
Security Operations Centre as a Services ("SOCaaS"): Provides centralized and consolidated cyber security incident prevention and security event monitoring services.
Projects (System Integration Services)
ICT Hardware, Software and Service System Integration Projects: Undertakes ICT hardware implementation, software delivery and digital transformation projects like wide area network ("WAN") and its maintenance.
Digital Services: Offer solutions/applications that are hosted on their data centers, offer digital services including unified communications. Provides Wi-Fi, e-tendering/ e-auction/ smart payments and disaster management services.
Other Services: It includes consultancy services for ICT services and solutions and signaling services  for the Indian Railways.
Related Posts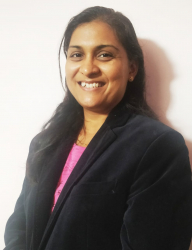 Latest posts by CA Priyanka Choudhary Jain
(see all)
Disclaimer: The above content is for general info purpose only and does not constitute professional advice. The author/ website will not be liable for any inaccurate / incomplete information and any reliance you place on the content is strictly at your risk.
Follow us on Social Media by clicking below
Follow @financepost_in