CA members can avail the COVID grant from ICAI
Considering the difficult time due to COVID 19 pandemic, the Management Committee of CABF, ICAI has planned to sanction the COVID grant to the extent of Rs. 1,50,000/-.  ICAI's initiative is a welcome move in the time of distress. COVID grant will be made available as financial assistance for medical expenditure incurred by members or their dependents at the hospital. The announcement for the same was made by ICAI  on 26th July 2020.
Who can one avail the COVID Grant from ICAI?
If a CA member, spouse, children or their dependents are COVID positive.
Grant will be made available only in case of hospitalization.
Grant is medical financial assistance that will be made available only to the members who are in distress & would require financial assistance for the treatment of the disease. (Only if net taxable income is less than Rs. 10 lakhs per annum)
The maximum grant that can be availed from ICAI is Rs. 1,50,000/-
Note: If the above grant is not utilized for the treatment of CORONA by satisfying the above conditions, the grant will be returnable to CABF in full within 15 days.
Procedure to avail the grant from ICAI
The CA members who would like to avail the grant will have to file the request in the prescribed form-cum-Undertaking.
The application needs to be filed along with the CORONA positive report.
The application form is made available on the website of the ICAI at the CABF Portal at the link https://cabf.icai.org/ .
OR
What documents are required to be submitted along with the application form?
Copy of Corona Diagnosis (Original)
All the medical reports & Hospital Bills (Original)
The estimated cost of treatment in the hospital.
Copy of PAN
Copy of Aadhar Card
Copy of preceding 2 years ITRs
Cancelled Cheque.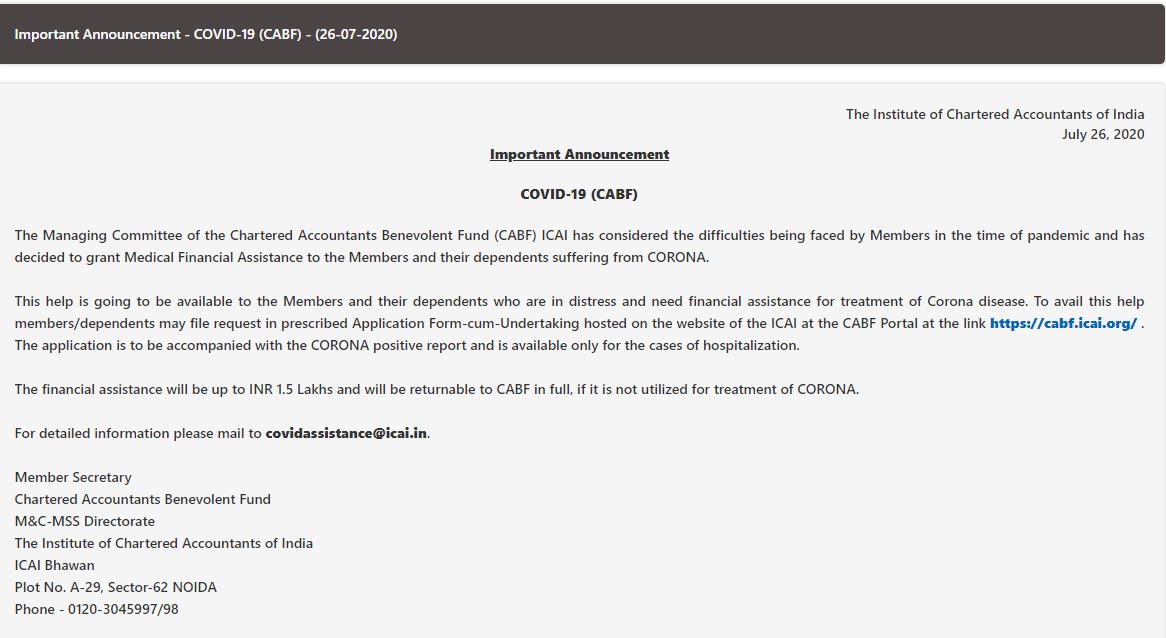 For any further queries or information please mail to covidassistance@icai.in.
---
Related Posts
None found