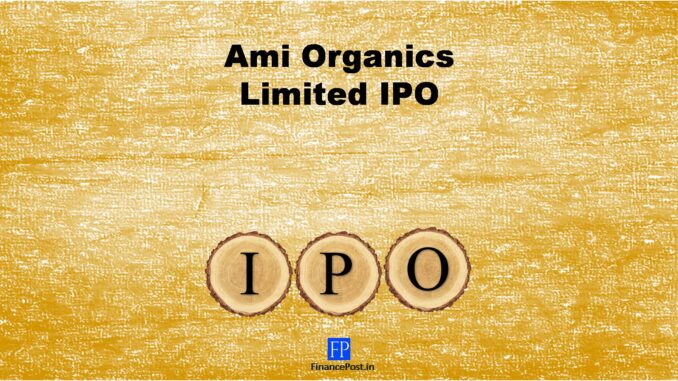 Ami Organics Limited IPO
Surat-based Ami Organics, established in the year 2004; is coming up with IPO of Rs 570 crore. The Offer opens on 1st Sept 2021. Offer details of the Issue as follow:
Offer Details
Offer Size
Rs 570 crore
of which
Fresh Issue
Rs 200 crore
Offer for sale
upto 6059600 equity shares
Reservation for eligible employees
–
Price Band
Rs 603-Rs 610 per share
Offer Period
Sept 1- Sept 3, 2021
Offer Structure
QIBs: upto 50% of the offer
NIIs: upto 15% of the offer
RIIs: upto 35% of the offer
Market Lot
Minimum 1 lot; 24 shares (Rs 14640)
Maximum 13 lots; 312 shares (Rs 190320)
Listing on
BSE, NSE
BRLM's
Intensive Fiscal Services Pvt Ltd, Ambit Pvt Ltd, Axis Capital Limited
Registrar
LinkIntime
Vijaya Diagnostics Centre Limited IPO- know the price band/offer size/IPO open and close dates
Objects of the Offer of Ami Organics IPO
Repayment of debt from fresh issue proceeds and pre IPO placement- Rs 140 crore
Funding working capital requirements- Rs 90 crore
Ami Organics is a manufacturer of Pharma Intermediates for certain key APIs, including Dolutegravir, Trazodone, Entacapone, Nintedanib, and Rivaroxaban. The Pharma Intermediates manufactured, find application in certain high-growth therapeutic areas including anti-retroviral, anti-inflammatory, anti-psychotic, anti-cancer, anti-Parkinson, anti-depressant, and anti-coagulant, commanding significant market share both in India and globally.
The Issuer has developed and commercialized over 450 Pharma Intermediates for APIs across 17 key therapeutic areas since inception and NCE, with a strong focus on R&D across select high-growth high margin therapeutic areas.
Ami Organics recently acquired two additional manufacturing facilities operated by Gujarat Organics Ltd (GOL)which has added preservatives (parabens and parabens formulations which have end usage in cosmetics, animal food, and personal care industries) and other specialty chemicals.
The company exports pharma intermediates to various multi-national pharmaceutical companies which cater to the large and fast-growing markets of Europe, China, Japan, Israel, the UK, Latin America, and the USA.  Revenue from exports contributed 51.57% (FY21), 45.89% (FY20) and 49.61% (FY19), respectively of total revenue from operations. Export customers include Organike s.r.l.a Socio Unico, Fermion Oy, Fabbrica Italiana Sintetici S.p.A, Chori Co. Ltd., Medichem S.A. and Midas Pharma GmbH. Domestic customers include Laurus Labs Limited, Cadila Healthcare Limited, and Cipla Limited. 
The company has three manufacturing units located at
(i) GIDC, Sachin, Gujarat,
(ii) GIDC, Ankleshwar Industrial Estate, Gujarat,
(iii) GIDC Industrial Estate, Jhagadia, Gujarat.
Of the above, the Ankleshwar Facility and Jhagadia Facility have been recently acquired from GOL.
Key Financial Highlights of Ami Organics
The total revenues increased by 41% to Rs 341.99 crore in FY21 from Rs 242.49 crore in FY20 with the increase in sale of the products resulting from the growth of domestic and export demand.
Ami posted an increase of  96%  in PAT increasing to Rs 54crore as against Rs 27 crore for  FY20.
The company recorded a growth of 1.5% in revenues for FY20 when compared to FY19.
The profitability margins are showing an increasing trend since the last three fiscals.
Debt is 0.83x of equity as on 31st March 2021; it's at a higher side due to the acquisition of Gujarat Pharma.
Return on net worth is strong at 32.81%, 24.57%, and 28.34% for FY21, FY20, and FY19 respectively.
The Issue is priced at 35.59 times its earnings; calculated at the upper price band of Rs 610 per share and EPS of Rs 17.14 as on 31st March 2021. Sector average P/E is 48.91 indicating reasonable valuations of the Issue. The P/BV is 11.51 at NAV of Rs 52.99 per share.
Valuation Parameters
| | | | | |
| --- | --- | --- | --- | --- |
| Valuation Parameters | EPS | P/E | NAV | P/BV |
| | 17.14 | 35.59 | 52.99 | 11.51 |
Chart showing profitability margins
Conclusion and Investment Strategy
The Indian Pharmaceuticals market was valued at USD 59 billion in 2020, contributing to around 4% of the global market. The Indian market is expected to grow at around a CAGR of 10% between 2020 and 2025 fuelled by a substantial increase in Indian API domestic consumption.
The speciality chemicals manufactured by AMI are used in the agrochemicals and fine chemicals industry. The speciality chemicals portfolio is expected to be further enhanced with the acquisition of Gujarat Pharma. The specialty chemicals manufactured by the facilities acquired as part of the Acquisition are used in sectors like cosmetics, preservatives, and agrochemicals. Ami Organics has fairly good fundamentals; the only concern is on the sustainability of the margins. As per the management, the company would be net debt-free as it plans to repay its debt with the IPO proceeds and then plans to grow organically and inorganically after the IPO.  One may consider investing for the long term in the IPO. The GMP of Ami Organics IPO surged to Rs 155 per share.
Subscription Status of Ami Organics IPO
Subscription Status {no. of times (x)}
Particulars
Shares Offered
1st Sep
2nd Sep
3rd Sep
QIB
18,54,166
1.39
1.43
86.64
NII
14,06,453
0.40
1.51
154.81
Retail
32,81,723
2.82
6.32
13.36
Employees
–
Total
65,42,342
1.90
3.90
64.54
Important Dates of Ami Organics IPO
| | |
| --- | --- |
| IPO Allotment and Listing | |
| Basis of Allotment | 08-Sep-21 |
| Refunds | 09-Sep-21 |
| Credit to Demat Account | 13-Sep-21 |
| Listing Date | 14-Sep-21 |