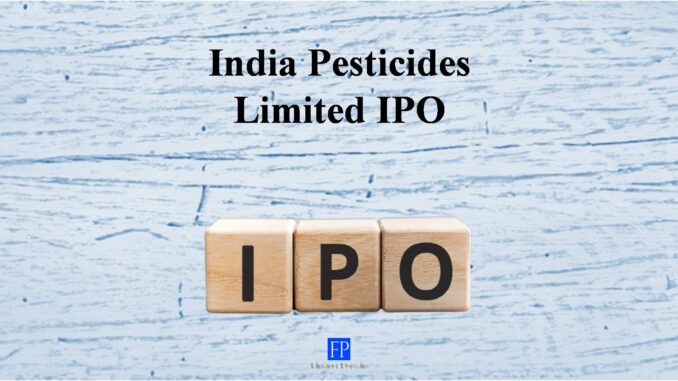 Last updated on June 23rd, 2021 at 02:39 pm
India Pesticides Limited IPO
Incorporated in the year 1984, India Pesticides Limited is coming up with its IPO amounting to Rs 800 crore. The offer comprises of fresh issue of Rs 100 crore. The Issuer's registered office is in Bareilly, Uttar Pradesh.
Offer details of India Pesticides Limited IPO
[su_table]
Offer Details
Offer Size
Rs 800 crore
of which
Fresh Issue
Rs 100 crore
Offer for sale
Rs 700 crore
Price Band
Rs 290-296 per share
Offer Period
June 23 -June 25 2021
Offer Structure
QIBs: upto 50% of the offer
NIIs: upto 15% of the offer
RIIs : upto 35% of the offer
Market Lot
Minimum 1 lot(50 shares), Rs 14800
Maximum 13 lots (650 shares), Rs 1,92,400
Listing on
BSE, NSE
BRLM's
Axis Capital, JM Financial
Registrar
Kfintech
[/su_table]
Objects of the Offer/Utilisation of fresh issue proceeds
Funding working capital requirements (Rs 80 crore)
General Corporate purposes
India Pesticides Limited IPO Subscription Status
Business Review of India Pesticides
India Pesticides is an R&D-driven agrochemical manufacturer of Technicals with a growing Formulation business. The Company manufactured 15,003 MT of Technicals in FY21. India Pesticides is the sole Indian manufacturer of five Technicals and among the leading manufacturers globally for Captan, Folpet, and Thiocarbamate Herbicide, in terms of production capacity. The Issuer currently has two manufacturing facilities located at UPSIDC Industrial Area at Dewa Road, Lucknow and Sandila, Hardoi in Uttar Pradesh, India that are spread across over 25 acres.
Product portfolio
The Issuer has two distinct operating verticals:
Technicals: Manufacture generic Technicals that are used in the manufacture of fungicides and herbicides as well as APIs with applications in dermatological products. The revenues from the Technicals segment amounted to Rs 256 crore (75%), Rs 383 crore (80%), and Rs 507 crore (79%) respectively for FY19, FY20, and FY21.
Formulations: Manufacture and sell various formulations of insecticides, fungicides, and herbicides, growth regulators, and Acaricides, which are ready-to-use products. The revenues from the formulations segment amounted to Rs 84 crore (25%), Rs 95 crore (20%), and Rs 136 crore (21%) respectively for FY19, FY20, and FY21.
The Technicals product category is primarily exported and revenue generated from exports contributed to 56.71% of revenue from operations in FY21. Exports are made to over 25 countries including Australia and other countries in North and South America, Europe, Asia, and Africa. The formulations products are primarily sold domestically through the extensive network of dealers and distributors. The customer base includes crop protection product manufacturing companies, such as Syngenta Asia Pacific Pte. Ltd, UPL Limited, ASCENZA AGRO, S.A., Conquest Crop Protection Pty Ltd, Sharda Cropchem Limited, and Stotras Pty Ltd; associated with the Company for over 10 years.
Financial Review
The financial performance of India Pesticides has shown an increasing trend over the last three fiscals. Revenues generated from operation increased by 41% to Rs 655.38 crore from Rs 489.73 crore. This was due to an increase in exports led by an increase in installed capacity.  PAT earned was Rs 189.49 for FY21 crore as against Rs 103.66 crore for FY20. Profitability margins have remained strong throughout the last three fiscals as can be seen from the chart.
Cash generated from operations has been robust at Rs 83.28 crore for FY21. The Issuer has negligible debt.
Valuation and Peer Comparison
At NAV of Rs 34.94, P/BV is 8.47 at the upper price band of Rs 296 per share. With EPS of 12.07 per share for FY21, P/E is 24.52x calculated at the upper price band. The Peer group average P/E is 47.44x which indicates that the Issue is adequately priced.
As per RHP Dhanuka, Bharat Rasayan, UPL Ltd, Rallis, Sumitomo are shown as the peers of the Issuer.
Conclusion/Investment Strategy
The key growth driver in the agrochemical sector is the need for increased crop production to feed the increasing population. Hence there is an increased demand for agrochemical products. Also, the well-diversified product portfolio of the agrochemical companies mitigates the seasonal demand for the products.
India Pesticides has strong R&D capacities leading to the development of new molecules as per the market needs. The Issuer has developed a niche portfolio of agro-chemical products. The Issuer has strong profit margins and consistent financial performance. Looking at these factors, one may subscribe to the issue.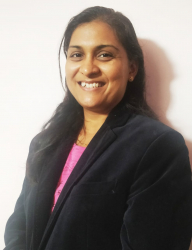 Latest posts by CA Priyanka Choudhary Jain
(see all)
Disclaimer: The above content is for general info purpose only and does not constitute professional advice. The author/ website will not be liable for any inaccurate / incomplete information and any reliance you place on the content is strictly at your risk.
Follow us on Social Media by clicking below
Follow @financepost_in