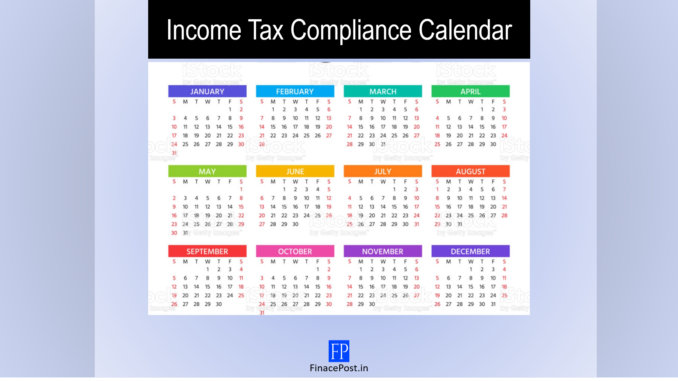 Income tax compliance calendar
There are various compliances that need to be taken care of by corporate as well as non-corporate assessees. Any divergence from the compliances under Income Tax Act or Goods & Service Tax Act may attract penal provisions. The Government has extended the various due dates for Assessment Year 2021-22 under the Income Tax Act vide a circular no. 17 dated 9th September 2021. Earlier the due dates were extended by issuing a circular no. 9 dated 20th May 2021.
Income-tax compliance calendar
Particulars
Original Due Date
Extended Due Date
Circular no. 9 dtd 20.02.21
Circular no. 17 dtd 09.09.21
ITR for assesses not requiring audit u/s 44AB for FY 2020-21
31.07.2021
30.09.2021
31.12.2021
Tax Audit Reports for FY 2020-21 [3CA, 3CB, 3CD]
30.09.2021
31.10.2021
15.01.2022
Transfer Pricing Reports u/s 92E [3CE]
31.10.2021
30.11.2021
31.01.2022
ITRs for Tax Audit Assessees including partners of Firm whose Firms were subject to tax audit.
31.10.2021
30.11.2021
15.02.2022
ITRs for Transfer Pricing Assessees
30.11.2021
31.12.2021
28.02.2022
Belated Return for AY 2021-22
31.12.2021
31.01.2022
31.03.2022
Revised Return for AY 2021-22
31.12.2021
31.01.2022
31.03.2022
Note: All the above due date extensions relate to procedural compliances, there is no extension in the date of payment of taxes by the taxpayers.
Note: Interest u/s 234A shall be applicable if the tax payable exceeds Rs 1 lakh.
⇒ Payment of TDS on the sale of the property should be done within 30 days from the end of the month in which deduction is made.
⇒ What are the due dates for  Trust registration/ Trust Re-Registration  u/s 12A, 80G, 35, Sovereign Wealth Fund, Pension Fund, Form 15G/15H, and others
Features of New Income Tax Portal
It is likely to be a taxpayer-friendly portal that will process ITRs immediately and quicker refunds will be issued.
It is likely that a single dashboard will be made available which requires action by the taxpayer.
It is likely that a chatbot/live agent and a call center will be made available for taxpayer's assistance.
It is likely that a new mobile app will be launched that will have all the key portal functions of the desktop.
It is likely that pre-filled ITRs will be made available along with interactive questions that will assist in return filing.
It is likely that new payment modes like credit cards and UPI will be added for faster and easy payments.