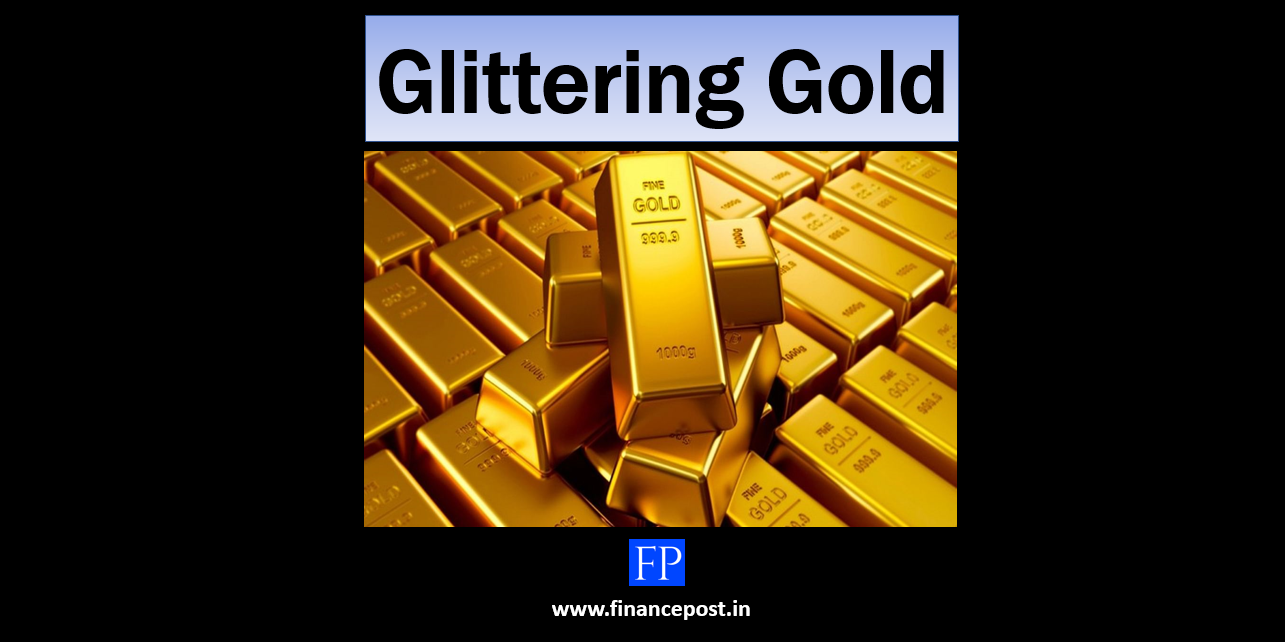 Gold rose to a peak of Rs 56200 per ten grams in the month of August of the year 2020. The precious yellow metal has been falling over a period of the last 3-4 months. It quoted at Rs 46439 per 10 grams on 18th Feb 2021.
Gold witnessed a rally in its prices globally since the pandemic Covid 19. Falling equity markets, negative market sentiments globally, and the curiosity of parking the funds in risk-free assets drove the momentum in the gold prices.
One can understand the price variations from the below chart.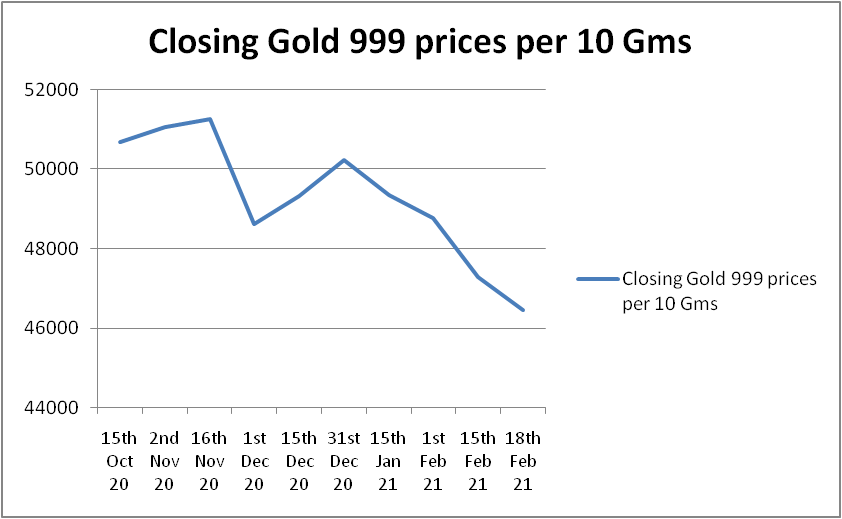 What is leading to fall in gold prices? 
Reduction of customs duty on gold in the union budget 2021 to 7.5% from 12.5%. This cut would reduce the retail prices and also address the smuggling of gold into India.
The rise in US dollar and treasury bills has also contributed to a decrease in gold prices.
Last but not least, the surge in the equity markets always has an inverse relationship with gold.
The trend generally seen in the investor's behavior is that when the prices are at the peak, everyone would like to invest in the asset but when the prices are falling people anticipate it to fall further thus delaying making any investments! It is interesting to note that the Sovereign Gold bonds subscription levels exceeded during its offer price of Rs 56000 (per 10 grams) than seen recently.
Why should one invest in Gold?
Gold is a good portfolio diversifier and can act against inflation. It also provides financial cover during geopolitical and macroeconomic uncertainty. People tend to accumulate gold to meet their future requirements and value it as a reserve for tough times. Hence one should always keep a certain portion for investments in the yellow metal. Upcoming Sovereign Gold Bond Series – Will it be a golden opportunity to Buy?
Whether one should invest in the upcoming Sovereign Gold Bond (SGB) at these prices?
Prices at these levels seem to be attractive and one can also check the offer price of Sovereign Gold Bonds coming up on 1st March 2021, the last 12th series of the FY20-21. The Government fixes the price of SGB on the basis of a simple average closing price of 999 purity gold prices prevailing in the last three business days of the week preceding the subscription period. One may expect an offer price of the upcoming SGB ranging between 46000-47000 levels approximately. The offer price could be lower than seen in the recent past. Check the income tax implication of investing in SGB
| | | | |
| --- | --- | --- | --- |
| Sovereign Gold Bond 2020-21 series | Date of  subscription | Date of issue | Issue Price |
| Series 12 | Mar 01- Mar 05, 2021 | Mar 09, 2021 | – |
Gold rate source: IBJA
You may also be interested in
How to apply for Sovereign Gold Bond?
Sovereign Gold Bonds- Series XI (1st Feb -5th Feb 2021)
Sovereign Gold Bonds-Series VI (31st Aug-4th Sep 2020)