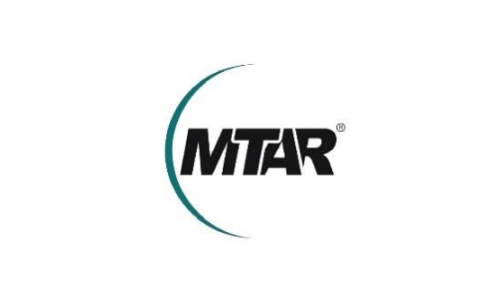 MTAR Technologies is coming up with IPO which opens on 3rd March and closes on 5th March. The company manufactures high precision components in clean energy, nuclear, space and defence sectors.The price band is Rs 574-Rs 575.MTAR Technologies IPO – Fundamental Analysis
MTAR Technologies is coming up with its IPO size of Rs 597 crore. The offer opens on 3rd March 2021 and closes on 5th March 2021. The company has already undertaken a pre-IPO placement of 1,851,851 shares, aggregating to Rs 100 crore with Axis MF and SBI MF. Find the offer Details below:
Offer Details
Offer Size
10,372,419 equity shares amounting to Rs 597 crore
of which
Fresh Issue
2,148,149 equity shares amounting to Rs 124 crore
Offer for sale
Upto  8,224,270 equity shares amounting to Rs 473 crore
Price Band
Rs 574-Rs 575
Offer Period
3rd March- 5th March
Offer Structure
QIBs: upto 50% of the offer
NIIs: upto 15% of the offer
RIIs : upto 35% of the offer
Market Lot
26 shares(1 lot) Rs 14,950

338 shares(13 lots) Rs 1,94,350

Listing on
BSE, NSE
BRLM's
JM Financial, IIFL Securities
Registrar
Kfintech
Objects of the Offer
Repayment of prepayment in full or in part of the borrowing availed.
Funding the working capital requirements.
General corporate purposes.

MTAR Technologies IPO – Fundamental Analysis
Business Review
MTAR Technologies has business existence since 1970s, however it is incorporated as Company in 1999 in Hyderabad. The company develops and manufactures high precision components and equipment in the clean energy, nuclear and space and defence sectors in India and abroad.
The Company's order book as on Dec 31 2020 stood at Rs 80.19 crore in clean energy sector, nuclear sector was Rs 93.19 crore and defence sector was Rs 160.61 crore. As on December 31, 2020, MTAR employed 891 permanent employees and 248 contractual workmen.
MTAR Technologies is also a key supplier of mission critical assemblies and components to customers within the space and defence sectors for their programs of national importance to ISRO and DRDO.
The company operates through seven manufacturing facilities, including an export oriented unit (EOU). The manufacturing facilities are located in Hyderabad, which has advanced equipment to undertake precision machining, assembly, testing and quality control, specialized fabrication, brazing and heat treatment, and other specialized processes.
The bids for the projects in the nuclear, space and defence sectors are invited by issuing tender enquiries. The qualification process for securing such tenders is extremely stringent as there is no scope for faults in such sectors.
The customers of MTAR include some of India's leading organizations in the nuclear, space and defence sectors such as the NPCIL, Indira Gandhi Centre for Atomic Research ( ISRO) and the DRDO among others. The Company also supplies products to international companies such as Bloom Energy and an Israeli defence technology company, among others. The company has established long-term relationships with the customers leading to recurrent business engagements with them.
MTAR is in the process of establishing an additional manufacturing facility at Adibatla in Hyderabad which is expected to become operational in Fiscal 2022. The Company is also planning to construct an additional shed for specialized fabrication to supply products to domestic as well as international customers.
Financial Review of MTAR
MTAR posted PAT of Rs 28.07 crore against revenue of Rs 178 crore for nine months ended 31st Dec 2020. The total revenue for the FY20 has increased by 17.34 % to Rs 218.14 crore as against Rs 185.91 crore in FY19. The Company's PAT reduced by 20% to Rs 31.32 crore in FY20 because of increase in deferred tax due to utilization of MAT credit in Fiscal 2020. PAT increased significantly to Rs 39.19 crore in FY19 from Rs 5.42 crore in FY18. Operating and the net margins have been strong in the last three fiscals. The trend in the margins can be seen from the chart below.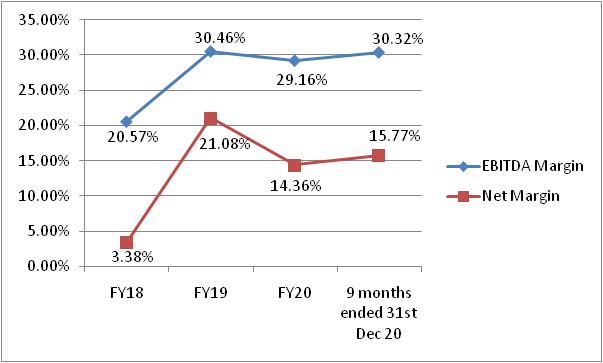 Cost of materials consumed constitutes a significant portion of expenses. It accounted for 46.01%, 44.99%, 50.55% and 54.05% of the total expenses for Fiscal 2018, 2019, 2020 and for the nine months ended December 31, 2020 respectively. 
Debt to equity is low at 0.13 for FY20. Return on net worth is reasonable being 16.68% and 13.92% for FY20 and FY19 respectively.
Peer Comparison and Valuation
MTAR has no listed peers as per the RHP. However the competitors in nuclear sector are Larsen & Toubro Heavy Engineering, Godrej & Boyce Manufacturing Company Limited, Hindustan Aeronautics Limited, and Walchandnagar Industries. Though the company cannot be compared on an apple to apple basis as the business offerings are different however reference valuations can be derived as these companies operates in similar sector.
At annualised EPS (9 months EPS annualised) of 13.99 per share, P/BV is 6.26 at upper price band of Rs 575 per share. At NAV of Rs 91.79, considering the upper price band P/E is 41.11x. The sector average P/E is 24.86x (an average is taken of the peers). Hence the IPO valuations appear to be stretched at higher side. Key Valuation parameters are provided below:
| | | | | |
| --- | --- | --- | --- | --- |
| Valuation Parameters | EPS (annualised) | P/E | NAV | P/BV |
| | 13.99 | 41.11 | 91.79 | 6.26 |
Outlook and Strategy
MTAR features precision engineering expertise with complex product manufacturing capability. The company has a wide product portfolio catering to customers in diverse segments. It has established trusted and long-standing relationships with its customers.
 The government targets to reach RS 350 billion in defence exports in the next 5 years. India has been successful in up-scaling the defence exports agenda with major participation of private sector. However, its share of global arms exports is miniscule ~0.2%. Hence, there exists a sizeable opportunity for arms exports from India especially in the low-tech weapons. The target market would be selective and largely comprising of states in Africa and the Middle East.
However it is also worthy to note that the budgeted defence expenditure is expected to witness constraints in FY21 largely due to COVID- 19 pandemic. The government may face financial crunch as majority funds are expected to be diverted towards up-scaling the health infrastructure to fight the pandemic. This is expected to limit the expenditure on various key industries including defence.
MTAR has reasonable financial performance with strong margins for the last two fiscals and 9 months ending 31st Dec. 2020. The company however has client concentration risk in the form of significant dependence on orders from Bloom Energy, NPCIL, ISRO and DRDO. Hence, considering all the above factors, investors may consider it for a long term perspective in the IPO.
 Other stories
Sovereign Gold bond Opens Today for Subscription- Should you Invest