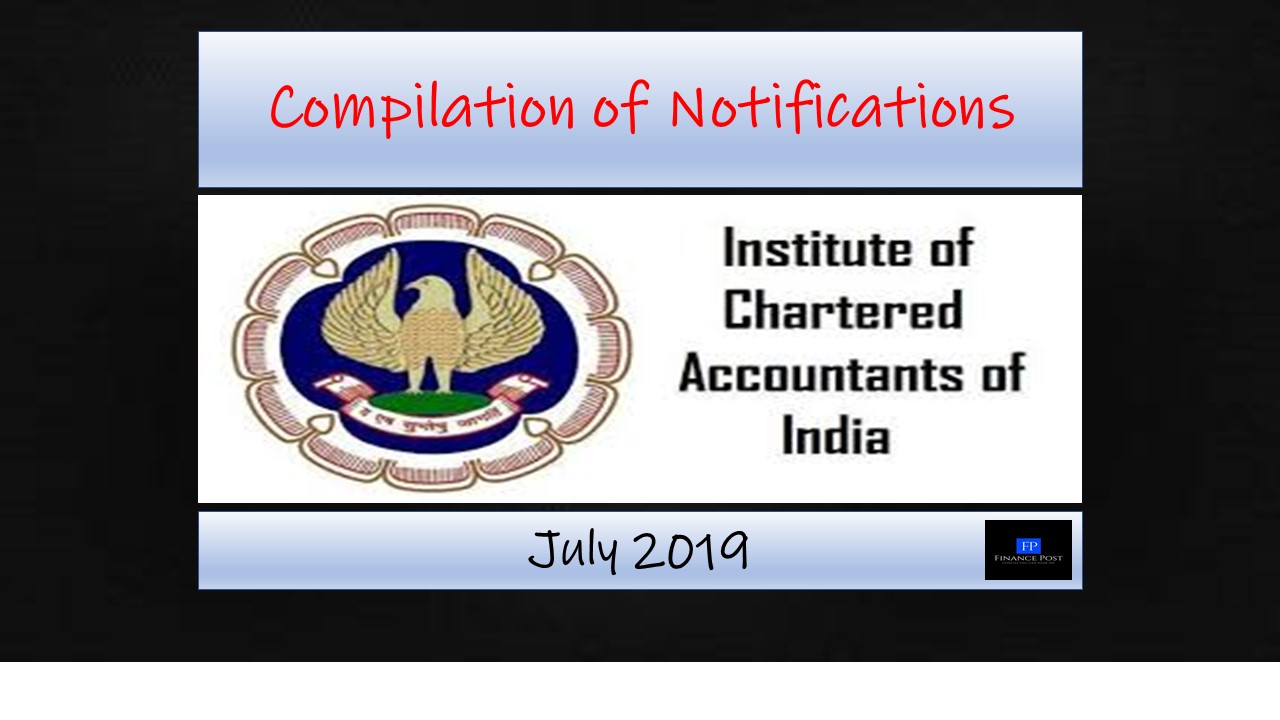 ICAI: Compilation of notifications for July 2019
Accounts
ICAI and ASB invite comments on the exposure draft of Deferred Tax related to Assets and Liabilities arising from a Single Transaction. In this Exposure Draft, the International Accounting Standards Board (Board) proposes to amend IAS 12 Income Taxes. The proposed amendments would require an entity to recognize deferred tax on initial recognition of particular transactions to the extent that the transaction gives rise to equal amounts of deferred tax assets and liabilities. The proposed amendments would apply to particular transactions for which an entity recognizes both an asset and a liability, such as leases and decommissioning obligations. Last date to submit the comments is 30th Sep 2019. Click here to read the exposure draft.
ICAI and ASB invite comments on the targeted amendments to IFRS 17 Insurance Contracts, issued in May 2017 to respond to concerns and challenges raised by stakeholders as IFRS 17 is being implemented. Comments should be submitted not later than August 16, 2019. Click here to read the exposure draft.
ICAI and ASB invite comments on the Exposure Draft, that proposes narrow-scope amendments to IFRS 3 Business Combinations to be received not later than August 16, 2019. The amendments would update a reference to the Conceptual Framework for Financial Reporting without changing the accounting requirements for business combinations. Updating the reference without making any other changes to IFRS 3 could change the accounting requirements for business combinations because the liability definition in the 2018 Conceptual Framework is broader than that in previous versions. Click here to read the exposure draft.
ICAI publishes Accounting Standards: Quick Referencer and Compendium of Indian Accounting Standards. Click here to download the pdf of AS referencer.
A new Committee namely the Committee on Public Finance and Accounting Standards for Local Bodies (CPF&ASLB) have been constituted in ICAI to carry forward the initiatives of two erstwhile Committees (i.e., Committee on Accounting Standards for Local Bodies (CASLB) and Committee on Public Finance and Government Accounting (CPF&GA)). Amongst others, the primary activities of the erstwhile CASLB were to prescribe the accrual-based accounting framework, i.e., Accounting Standards for Local Bodies(ASLBs) which is being carried forward under the newly constituted Committee. CPF&ASLB has finalized the Exposure Drafts of the following ASLBs:
ASLB 21, 'Impairment of Non-Cash Generating Assets',
ASLB 26, 'Impairment of Cash Generating Assets', and
ASLB 32, 'Service Concession Arrangements: Grantor'.
Tax
ICAI had submitted its Pre-Budget Memorandum and the Finance Minister while presenting the Union Budget on 5th July 2019, duly considered ICAI's suggestions, especially with regard to the inclusion of other permitted modes of electronic payments, incentives to non-banking finance companies (NBFCs), consequential amendment to Section 56 and provision of credit of relief provided under Section 89. Click here to read the Suggestions done by ICAI.
The CBDT also extended the due date to file tax returns from 31st July 2019 to 31st Aug 2019 after the representation from ICAI.
Audit / Members
ICAI has conceptualized and implemented an innovative concept called Unique Document Identification Number (UDIN). UDIN is being made mandatory for all Audit and Assurance Functions like Documents and Reports certified/issued by full time Practising Chartered Accountants from 1st July 2019. Non-compliance of UDIN directive may attract Disciplinary Proceedings as per Clause 1 of Part II of Second Schedule of The Chartered Accountants Act, 1949.
ICAI has issued the following Guidance Notes
Examinations and Courses
Results of the Common Proficiency Test (CPT) held in June 2019 declared on 18th July 19.
Result of the Information Systems Audit [ISA] Assessment Test held on 29th June 2019 declared on 18th July 19.
To provide global opportunities to the Chartered Accountants, ICAI is organizing its overseas campus placement on 18th-21st October 2019 towards an endeavor to promote accountancy and financial sector services under champion sector initiatives. Semi-qualified budding accountant professionals have also been included in this overseas placement drive. All professionals who wish to avail themselves of this opportunity are requested to register for the placement programme, which starts from 18th August 2019.
BoS of ICAI has planned a Four Weeks Residential Programme to focus on the development of communication skills, leadership skills, personal traits. It will be conducted in the Centre of Excellence, Jaipur (Period – 4th September 2019 to 1st October 2019) (Note : it is only for male participants).
The Committee on Capital Market and Investors Protection of ICAI proposes to conduct batches of Certificate Course on Forex and Treasury Management at Mumbai commencing from 10th Aug, 2019 to 1st Sep,2019.
ICAI has initiated foreign language courses in German, French, and Spanish to overcome the language barriers while dealing with foreign companies and also to meet the mandate of Government of India under Action Plan for Champion Sector. However, ICAI has not taken any decision to make the foreign language course mandatory for its members and students as published in some local newspapers.
2 Days Hands-on Training on Advanced Excel has been organized at Gurugram on 02nd & 03rd August 2019.
ICAI has decided to provide 3 more attempts for the Post Qualification Course in International Trade Laws & WTO and accordingly,  November 2020 would be the last attempt. The Council has decided that no fresh registration would be taken in the said course.
ICAI declares Campus Placement programme and Interview dates in September – October 19 for newly qualified CAs.
Other initiatives
ICAI's Members and Student services have been made online, in digitized form on a new platform which works on a Self Service Mode on the Self Service portal (SSP). Application forms are available online now barring a few which will also be available shortly. Kindly visit e-services on www.icai.org. ICAI has decided to waive off delay condonation fee on all application forms with transaction dates between 01st April 2019 to 30th June 2019 and submitted online by 31st July 2019.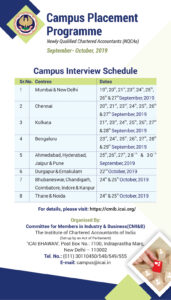 (Reference: www.icai.org)
Related Posts
None found