Due Date for GSTR 3B
Considering the hardships & difficulties faced by the taxpayers while furnishing the monthly return (FORM GSTR 3B), the Government has changed the pattern in which the returns will be filed. Now to manage the load on the GSTN portal, the return filing has been planned in a staggered manner.
The taxpayers are firstly classified based on aggregate turnover in the previous year.
Taxpayers having annual aggregate turnover is Rs 5 Crore or more in the previous financial year.  – 20th of Succeeding month
Taxpayers having annual aggregate turnover

up to

Rs 5 Crore in the previous financial year.
10 states & 5 Union Territories  – 22nd of Succeeding month
18 states & 4 Union Territories – 24th of Succeeding month
It was first announced by a press release dated 22nd January 2020. Then, CBIC had also notified the same by issuing a CGST notification no. 07/2020 dated 3rd February 2020.
Above mentioned notification includes the details of the due dates for GSTR 3B for the months of January 2020, February 2020 and March 2020. The simplified and the new return filing system is expected to be implemented from 1st April 2020. So it is very likely that the monthly return in FORM GSTR 3B will be filed for the last three months.
Due Date for furnishing GSTR 3B for the month of January 2020
Name of State or Union Territory
If aggregate turnover is Rs 5 Crore or more in the previous financial year
If aggregate turnover is

upto Rs 5 Crore

in the previous financial year
Chhattisgarh, Madhya Pradesh, Gujarat, Maharashtra, Karnataka, Goa, Kerala, Tamil Nadu, Telangana, Andhra Pradesh, Daman & Diu (UT), Dadra & Nagar Haveli (UT), Puducherry (UT), Andaman & Nicobar Islands (UT), Lakshadweep (UT)
20th February 2020
22nd February 2020
Himachal Pradesh, Punjab, Uttarakhand, Haryana, Rajasthan, Uttar Pradesh, Bihar, Sikkim, Arunachal Pradesh, Nagaland, Manipur, Mizoram, Tripura, Meghalaya, Assam, West Bengal, Jharkhand, Odisha, Jammu & Kashmir (UT), Ladakh (UT), Chandigarh (UT), Delhi(UT)
20th February 2020
24th  February 2020
Due Date for furnishing GSTR 3B for the month of February 2020
Name of State or Union Territory
If aggregate turnover is Rs 5 Crore or more in the previous financial year
If aggregate turnover is

upto Rs 5 Crore

in the previous financial year
Chhattisgarh, Madhya Pradesh, Gujarat, Maharashtra, Karnataka, Goa, Kerala, Tamil Nadu, Telangana, Andhra Pradesh, Daman & Diu (UT), Dadra & Nagar Haveli (UT), Puducherry (UT), Andaman & Nicobar Islands (UT), Lakshadweep (UT)
20th March  2020
22nd March 2020
Himachal Pradesh, Punjab, Uttarakhand, Haryana, Rajasthan, Uttar Pradesh, Bihar, Sikkim, Arunachal Pradesh, Nagaland, Manipur, Mizoram, Tripura, Meghalaya, Assam, West Bengal, Jharkhand, Odisha, Jammu & Kashmir (UT), Ladakh (UT), Chandigarh (UT), Delhi(UT)
20th March 2020
24th  March 2020
Due Date for furnishing GSTR 3B for the month of March 2020
Name of State or Union Territory
If aggregate turnover is Rs 5 Crore or more in the previous financial year
If aggregate turnover is

upto Rs 5 Crore

in the previous financial year
Chhattisgarh, Madhya Pradesh, Gujarat, Maharashtra, Karnataka, Goa, Kerala, Tamil Nadu, Telangana, Andhra Pradesh, Daman & Diu (UT), Dadra & Nagar Haveli (UT), Puducherry (UT), Andaman & Nicobar Islands (UT), Lakshadweep (UT)
20th April  2020
22nd April 2020
Himachal Pradesh, Punjab, Uttarakhand, Haryana, Rajasthan, Uttar Pradesh, Bihar, Sikkim, Arunachal Pradesh, Nagaland, Manipur, Mizoram, Tripura, Meghalaya, Assam, West Bengal, Jharkhand, Odisha, Jammu & Kashmir (UT), Ladakh (UT), Chandigarh (UT), Delhi(UT)
20th April 2020
24th  April 2020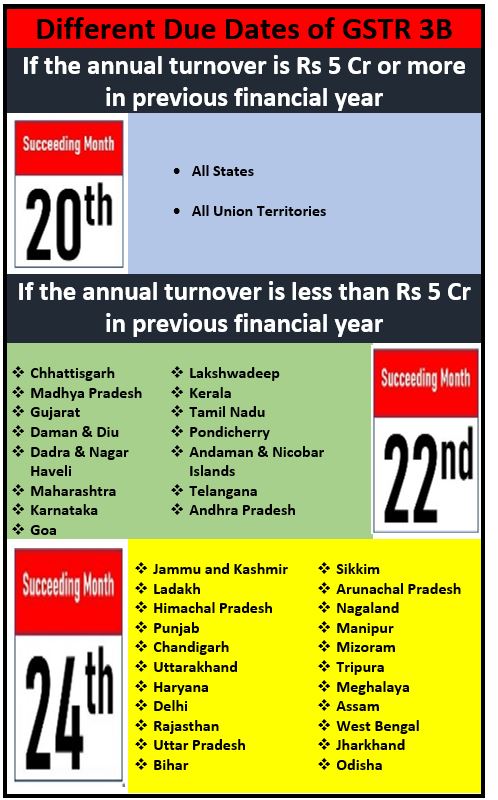 ---
---
Related Posts
None found